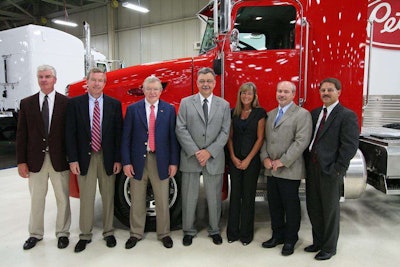 Peterbilt Motors Co. on Thursday, June 10, announced delivery of the first 2010 Environmental Protection Agency-certified Paccar MX engine. A Peterbilt Model 386 equipped with the first production Paccar MX engine was delivered to McClymonds Supply & Transit Co. at Peterbilt's facility in Denton, Texas, where the truckmaker's employees were joined by representatives from McClymonds' dealer, Hunter Peterbilt, as well as government officials and media.
"The first Paccar MX produced at the Denton facility signifies an increased level of powertrain integration and vehicle optimization," says Bill Jackson, Peterbilt general manager and Paccar vice president.
The Paccar MX – available in Peterbilt Models 587, 388, 386, 384, 367 and 365 – has a horsepower range of 380 to 485 hp and torque outputs up to 1,750 lb.-ft. with a displacement of 12.9 liters. The company says this power range, combined with a fuel-efficient lightweight design, makes the Paccar MX suited for both over-the-road and vocational applications.
The Paccar MX also has been designed for ease of maintenance, which the company says results in improved efficiency in dealers' service facilities at more than 670 authorized locations across North America with certified Paccar MX trained technicians and an inventory of in-stock service parts and the latest technologies and diagnostic tools to service and support the Paccar engine family. Paccar also operates eight parts distribution centers in North America and provides 24/7 engine technical support through its dedicated Customer Call Center.
"McClymonds Supply & Transit is proud to receive the first Peterbilt installed with a Paccar MX engine," says Mark McClymonds, the company's president. "Our company has run millions of miles with Peterbilts."
Full production for the MX engine is slated to begin soon at the company's all-new $400 million plant in Columbus, Miss.