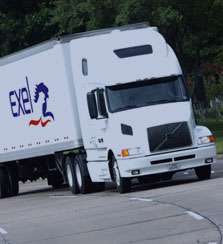 Exel has been honored with a 2009 Excellence in Demand Response Award from Peak Load Management Alliance for its GoGreen climate protection program. PLMA's Demand Response Annual Awards recognize the most innovative and creative load reduction programs. Awards were based on criteria including customer satisfaction, program management, cost-effectiveness and long-term viability.
Through the early adoption of energy management practices and technology, Exel's program included a regional pilot that made demand response part of its standard operations in select sites. The project exceeded expectations and ultimately served as the foundation to consider a geographic expansion.
CPower, Inc., an energy management and demand response firm and Exel's partner for the implementation of demand response solutions, nominated the company to recognize its corporate sustainability efforts. As part of Deutsche Post DHL and its GoGreen climate protection program, Exel has committed to improving the CO2 efficiency of its own operations and those of its subcontractors by 30 percent by the year 2020, compared to its 2007 baseline.
"We are focused on identifying solutions that improve energy efficiency while accelerating operational excellence on behalf of our customers, and we are proud to be recognized by industry experts," says Tony Hollis, director of product development and innovation for Exel. "With the support of business partners like CPower, earning PLMA's 2009 Excellence Award is an honor, and we remain committed to our energy management practices."
In many of its warehouse and distribution operations, Exel has implemented high-efficiency lighting and energy-efficient material handling equipment, reduced utilities and refrigerant consumption, and engaged in demand response and other energy management programs. The company also ensures that its fleets maximize miles per gallon through driver training programs with the application of aerodynamics strategies and through membership in the U.S. Environmental Protection Agency's SmartWay Program.
"As a demand response aggregator with hundreds of clients, we have consistently been impressed with Exel's commitment to the success and expansion of its demand response program," says Gary Fromer, chief executive officer of CPower.