Scores of inspections
CSA 2010 could fuel demand for maintenance technology
By Aaron Huff
For the past year, Comprehensive Safety Analysis 2010 has been a popular discussion topic in boardrooms and at industry events. The highly anticipated safety regime is scheduled to go live in December, and when it does, the Federal Motor Carrier Safety Administration will begin using the Safety Measurement System (SMS) in lieu of the current SafeStat to determine safety ratings for motor carriers. The SMS will create a monthly safety fitness determination for motor carriers based on seven Behavioral Analysis Safety Improvement Categories (BASICs).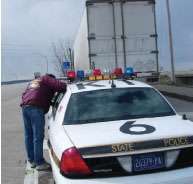 With the substantial amount of live CSA 2010 data that fleets soon will have to manage, it might be easy to overlook the impact that a successful preventive maintenance program can have on a company's overall safety score. Successful programs will result in fewer roadside inspections and citations, which in turn will result in a better safety score. A PM program especially will become important in regard to tires, brakes, lighting and other obvious defects that might show up during a roadside inspection.
Driver inspections
The new regulations under CSA 2010 include 275 maintenance items, and a driver can be found in violation for 202 of them during a roadside inspection. Violations count against a driver's score just as they count against a motor carrier.
Ultimately, the driver is responsible for identifying that his vehicle is in safe operating condition and for reporting those items that are not. Since drivers can't make most of the repairs or adjustments, they will be conducting more thorough pre- and post-trip inspections to catch problems – and will expect them to be fixed quickly.
One way to improve this maintenance reporting process is with electronic driver vehicle inspection reports (DVIRs). Many fleets already have tools in place to make the transition from paper to electronic.
For example, drivers using TMW Systems software can send pre- and post-trip inspections through a macro message in their onboard communications systems to the TMT Fleet Maintenance software system. An electronic DVIR macro can be used to trigger an inspection ticket and repair order in the software system, says Dave Walters, technical services manager of TMW's TMT Fleet Maintenance product.
Whether fleets use electronic or paper DVIRs, fleet maintenance software can provide documentation that driver-reported complaints are addressed in a proper and timely manner. Documents that should be retained for each vehicle inspection service include a completed repair order certifying that the unit passed inspection, the location where the inspection was performed, the vehicle's ID number and the date and mileage at the time of service.
The repair order should include a detailed checklist of the items inspected and serviced. Ideally, these items should be signed by the servicing mechanic. Finally, this document must be maintained and made available for inspection for at least 14 months, says Charles Arsenault, president and chief executive officer of Arsenault Associates, developer of the Dossier fleet maintenance management software system.
Inspections and repair work performed by outside vendors also can be captured electronically. Paccar Parts, which offers the Connect fleet maintenance management system, is adding more EDI-type capability so that its customers can import repair records directly from Karmak and other software systems used by third-party repair shops.
Proactive management
The Dossier software has a feature that allows fleet managers to develop their own customized inspection checklists. It also has a Daily Reminder feature, a scoreboard that tells maintenance managers what units have items due or overdue, including CSA 2010 annual inspections.
TMT Fleet Maintenance users can leverage real-time alerting and monitoring tools offered by TMW Systems such as Results Now, the Dawg and Command Center to create custom events and metrics they wish to monitor. These tools could trigger an alert if a certain number of brakes fail inspection within a time period.
TMT Fleet Maintenance also is developing new scheduling and planning tools. A new scheduling tool set for release by the end of the year will integrate with fleet dispatch software systems to identify opportunities to schedule PM work during dwell time between loads.
PCS Software always has provided features to ensure that carriers are running a proactive safety and maintenance program, says Sean Van Dyck, vice president of sales. "Companies that fully use our Safety and Equipment Maintenance Modules will ensure that they are monitoring, correcting and tracking corrective action for every factor that is being measured by the new Safety Measurement System for CSA 2010," Van Dyck says.
Maintaining a schedule of regular preventive maintenance services and required annual inspections, tracking maintenance histories, cross-referencing driver complaints with repair orders and producing documentation on demand is extremely difficult if done manually. While the regulations do not mandate explicitly that fleets have maintenance management software, CSA 2010 compliance will be difficult without it, Arsenault says.
IN BRIEF
* ALK Technologies (www.alk.com) released PC Miler 24, its updated routing, mileage and mapping software. PC Miler 24, which optionally calculates precise toll cost modules, now displays entry and exit toll plaza names in route calculations to help reconcile discount program toll charges.
* Qualcomm (www.qualcomm.com) and FreightWatch will offer a covert freight tracking service to Qualcomm customers. The service, available to carriers of high-value and sensitive loads, will deliver an electronic freight security solution that uses covert tracking technologies to maintain a constant view of in-transit cargo from origin to destination.
* Vigillo (www.vigillo.com) released its PSP Driver Scorecards that takes data from the report generated by the Federal Motor Carrier Safety Administration's Pre-employment Screening Program and creates a prospective hire's CSA 2010 scorecard so that both current drivers and candidates are evaluated under the same lens.
* McLeod Software's (www.mcleodsoftware.com) PowerBroker platform was selected by C.R. England subsidiary England Logistics as its brokerage software solution. England management selected McLeod based on an exacting set of criteria.
* Teletrac (www.teletrac.net) released its newest integrated telematics solution for vehicle fleet management, Fleet Director 8. Through any Web browser, Fleet Director 8 is designed to give users a quicker, more intuitive grasp of vehicle location, routing, traffic status and fleet operations.
Innovative IES Release 9 available
TMW Systems announced that Innovative IES Release 9 is now in general availability following extensive testing during the first quarter with five existing customers. Innovative IES, an enterprise transportation software for the IBM i platform, became part of the TMW product family through last year's acquisition of Innovative Computing Corp.
"R9 represents a significant milestone for us," says Ray West, general manager for Innovative software. The code base was converted from RPG III to IBM's high-level Integrated Language Environment (RPG IV-ILE). "This painstaking conversion was important to improve developer productivity and speed the release of future enhancements," West says. "It also benefits system resource utilization."
TMW says a key feature of R9 will aid companies with hours-of-service and Comprehensive Safety Analysis 2010 compliance. A new "AvHrs" field was added that displays each driver's available hours; the system calculates available hours by checking the log rules that are set up for each driver and deducting the hours already on duty. n