FMCSA rethinks supporting documents
Agency offers incentive to use electronic tracking technology
The Federal Motor Carrier Safety Administration has decided not to require any motor carriers to retain certain documents related to drivers' hours of service and will relieve carriers that use electronic mobile communications and tracking technology of the burden of maintaining numerous other supporting documents in order to verify driver logs. In a related move, FMCSA now will allow drivers to scan their logbooks as an alternative to creating a second handwritten duplicate logbook. (See "FMCSA offers alternative to duplicate logs," page 23.)
The new regulatory guidance and policy, which was published in the June 10 Federal Register and takes effect July 12, will benefit carriers that have faced additional scrutiny since December 2008 when the agency adopted a policy of treating the data from electronic mobile communications and tracking systems as supporting documents that could be demanded in a compliance review.
In 1997, FMCSA's predecessor published a list of more than 30 types of supporting documents that carriers needed to retain in order to verify logs. In its new regulatory guidance, the agency said that certain documents in that list no longer are used regularly by enforcement staff and no longer will be required of any motor carriers.
In general, FMCSA will continue to require other types of supporting documents that were listed in April 1997, but carriers using qualifying electronic mobile communications and tracking technology that capture time and/or position location information now will be relieved of the requirement to retain many of the remaining supporting documents.
In order to take advantage of this paperwork relief, however, motor carriers cannot challenge in HOS enforcement proceedings the accuracy of their own electronic mobile communications and tracking records. The new regulatory guidance spells out the specifications that electronic mobile communications and tracking systems must meet in order to qualify for the paperwork relief.
FMCSA's new guidance and policy comes as the agency and the American Trucking Associations have been negotiating a settlement for several months of a lawsuit ATA filed in January regarding supporting documents. ATA's suit, which was prompted in large measure by FMCSA's December 2008 enforcement memorandum, seeks to compel the agency to issue a long-overdue regulation governing HOS supporting documents. The trucking group argued that without a regulation, carriers did not have clarity and certainty over what supporting documents were required.
In the regulatory guidance, the agency confirmed its plan to proceed with a regulation to establish requirements for HOS supporting documents. FMCSA plans to issue a proposed rule, which also would expand the mandate for electronic onboard recorders, by the end of this year and to adopt a final rule within two years.
For a copy of the new policy and any comments filed regarding it, go to www.regulations.gov and search FMCSA-2010-0168.
-Avery Vise
DOCUMENTS NO LONGER REQUIRED BY ANY CARRIERS
• Driver call-in records
• International Registration
Plan receipts
• International Fuel Tax
Agreement receipts
• Trip permits
• Cash advance receipts
• Driver fax reports (cover sheets)
DOCUMENTS NO LONGER REQUIRED OF CARRIERS USING QUALIFYING
ELECTRONIC MOBILE COMMUNICATIONS AND TRACKING TECHNOLOGY
• Gate record receipts
• Weigh/scale tickets
• Port of entry receipts
• Delivery receipts
• Toll receipts
• Agricultural inspection reports
• Over/short and damage reports
• Driver and vehicle examination reports
• Traffic citations
• Overweight/oversize reports and citations
• Carrier PROs
• Credit card receipts
• Border-crossing reports
• Customs declarations
• Telephone billing statements
IN BRIEF
* Economic activity in the manufacturing sector expanded in May for the 10th consecutive month, and the overall economy grew for the 13th consecutive month, according to the Institute for Supply Management's latest PMI – a composite index of overall manufacturing activity that takes into account production, orders, inventories and other factors. According to ISM, manufacturing grew slightly more slowly in May than in April, but new orders grew at the same rate.
* Net orders for heavy-duty Class 8 commercial vehicles increased 91 percent in April compared to the same month last year, according to ACT Research Co., which also reported that net orders for heavy-duty vehicles continue to strengthen month-to-month.
* Schneider National celebrated its 75th anniversary in June. The company began in 1935 when founder Al Schneider sold the family's car to purchase his first truck. Today, the company has more than 11,000 trucks and logs 926 million miles a year.
* Kansas, Vermont and Georgia became the 26th, 27th and 28th states to ban texting while driving. The new laws outlaw texting by all drivers. Vermont's law also forbids cell phone use by drivers younger than 18.
* The Transportation Research Board and the Federal Motor Carrier Safety Administration are hosting an International Conference on Commercial Driver Health and Wellness Nov. 8-10 in Baltimore.
FMCSA drops cargo insurance mandate
Beginning March 21, 2011, only household goods carriers and freight forwarders will be required to maintain minimum levels of cargo insurance and file evidence of such insurance. Under a final rule published in the June 22 Federal Register, the Federal Motor Carrier Safety Administration is eliminating the cargo insurance requirement for other for-hire motor common carriers of property and freight forwarders.
FMCSA said its review of cargo insurance requirements was sparked by the 1995 law that eliminated the distinction between common and contract carriers. The agency needed either to extend the cargo insurance requirement to contract carriers or drop it for everyone. In its proposal, FMCSA said carriers typically have cargo insurance well in excess of the regulatory requirements, in part because many shippers require such insurance as a condition of doing business. FMCSA retained the requirement for household goods carriers and forwarders in order to protect individual shippers "who are relatively unsophisticated consumers of transportation services."
For a copy of the final rule, go to www.regulations.gov and search FMCSA-2010-0189.
FMCSA offers alternative to duplicate logs
The Federal Motor Carrier Safety Administration last month announced that truck drivers now can satisfy the requirement for duplicate records of duty status (RODS) by submitting a scanned image of the document to their motor carriers rather than preparing a second handwritten log. The driver would retain the paper logs. The move is one of several changes the agency is making to update its policies regarding the verification of hours-of-service compliance.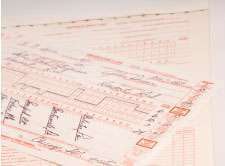 The regulatory guidance, which was published in the June 10 Federal Register, was prompted by an exemption request from a motor carrier to use images scanned at terminals or truckstops in lieu of paper copies. After reviewing the carrier's request, however, FMCSA determined that an exemption wasn't necessary because the applicable regulations – 395.8(a)(1) and 395.8(i) – could be construed as requiring the preparation of the RODS in duplicate. "However, FMCSA has opted for a more pragmatic application of the rules," the agency said.
Because existing regulations allow carriers to store electronically a scanned image of original RODS submitted by drivers and essentially dispose of the original paper document, "there is no discernible safety benefit to disallowing the driver's submission of a scanned image of the RODS to the carrier," FMCSA said. "There is no readily apparent reason that the location at which the original RODS is scanned into an image for subsequent electronic storage and retrieval should matter for the purposes of compliance with the recordkeeping requirements."
Pollution down at L.A., Long Beach ports
The Port of Los Angeles and the Port of Long Beach announced air quality and pollution levels have improved significantly. Officials of both ports cite the Clean Truck Program implemented in 2008 as a major contributing factor for the dramatic emissions decline.
The Port of Los Angeles announced that the 2009 Inventory of Air Emissions associated with its cargo handling operations shows diesel particulate matter (DPM) emissions dropped by 37 percent from 2008, nitrogen oxide (NOx) emissions fell 28 percent, and sulfur oxide (SOx) emissions were down 36 percent. When comparing 2009 emissions to 2005 emissions, the reductions are more dramatic: 52 percent for DPM, 33 percent for NOx and 56 percent for SOx. DPM is an identified toxic air contaminant and known carcinogen. NOx and SOx are key components of smog.
Pollutants at the Port of Long Beach fell for the third year in a row in 2009, with declines of up to 50 percent for key pollutants, according to a report. DPM was reduced by 52 percent, NOx was down 35 percent, and SOx dropped 46 percent.
"We are extremely pleased to see how effective the Clean Air Action Plan has been," says L.A. Port Executive Director Geraldine Knatz. "Even with recession-related cargo declines factored in, we saw very positive year-over-year emissions reductions in 2009. The results show that the investments the port and its customers have made in cleaner operations are delivering a healthy payoff."
– Jeff Crissey
Trucking job market improves
With strong gains in April and May, the trucking industry virtually has erased previous job losses for the year. According to preliminary figures released by the U.S. Department of Labor's Bureau of Labor Statistics, the for-hire trucking industry added 2,000 jobs in May over April. Meanwhile, BLS revised its earlier estimate of April trucking jobs upward by 2,600. Those gains offset a 4,200-job loss in February and a much smaller loss in March. Trucking employment in May was down 36,800, or 2.9 percent, from May 2009. Preliminary data shows payroll employment of more than 1.231 million jobs – down 222,100, or 15.3 percent, from the trucking employment peak in January 2007.
The BLS numbers reflect all payroll employment in for-hire trucking, but they don't include trucking-related jobs in other industries, such as a truck driver for a private fleet. Nor do the numbers reflect the total amount of hiring since they only include new jobs, not replacements for existing positions.
Nationwide, the economy gained 431,000 non-farm payroll jobs in May, according to preliminary BLS numbers. But the private sector added only 41,000 jobs. Government jobs rose by 390,000 on a net basis, primarily due to the hiring of 411,000 temporary workers for the 2010 Census.
Dallas conference focuses on outlook for freight, capital
The early stages of a recovery can be as treacherous for trucking companies as the depths of a recession. Freight demand is volatile and as trucks and drivers hit the road, operating costs rise before cash from those new loads rolls in. And this time around, banks might not be as willing to float the working capital needed to bridge the gap.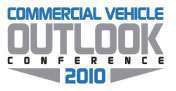 Helping carrier executives stay current on these trends is the principal goal of the Commercial Vehicle Outlook Conference, to be held Aug. 25-26 at the Dallas Convention Center in conjunction with the Great American Trucking Show in Dallas. Sessions at the conference, which is presented by the Heavy Duty Manufacturers Association and Randall-Reilly Business Media and Information, will address:
• Industry outlook – Eric Starks, FTR Associates, will discuss freight availability and rates, truck utilization and the looming driver shortage.
• Capital markets – Donald Broughton, Avondale Partners, will cover challenges in access to capital, carrier M & A activity and how failures will affect trucking capacity.
• Cost and productivity challenges – Max Fuller, US Xpress, Leo Suggs, Greatwide Logistics Services, and Jim O'Neal, O&S Trucking will discuss ways carriers can tackle rising costs and falling productivity.
• Environmental and safety policies – What the latest EPA and FMCSA regulations will mean for your trucking business.
Other speakers include Dan Sobic, executive vice president, Paccar; Scott Kress, vice president, sales, Volvo; Rusty Rush, president and CEO, Rush Enterprises; and Joe Plomin, vice president, Trucks, ArvinMeritor CVS.
Register by Aug. 9 for just $245 (regularly $395). Registration includes full conference, meals, cocktail reception and VIP tickets to the Great American Trucking Show. On-site registration begins at 11 a.m. Wednesday, Aug. 25, followed by a networking lunch. A networking reception will be held immediately following the program on Wednesday. The event is sponsored by Castrol, Kenworth, O'Reilly Auto Parts, Paccar Engine, Paccar Parts, Peterbilt, Utility Trailer, and Volvo. For more information, visit www.ccjdigital.com/cvoc. n
FUEL SAVVY
Staying in the sweet spot
Report identifies freight bottlenecks on U.S. highways
Even with fuel prices down from the historic highs of a couple years ago, a fleet's ability to maximize fuel economy still can impact its bottom line. For carriers operating in high-traffic shipping lanes, timing is everything. When traffic slows to a crawl, fuel costs can soar. Though you can't always avoid where freight is running, better managing when your trucks pass through congested areas can help keep them operating in the "sweet spot" where engines operate at peak efficiency.
The American Transportation Research Institute and the Federal Highway Administration recently released the findings of their 2009 Bottleneck Analysis of 100 Freight Significant Highway Locations. The research, which assesses the level of truck-oriented congestion at 100 locations on the national highway system, uses ATRI-developed analysis methods, customized software tools and terabytes of data from trucking operations to produce a congestion severity ranking for each location. This research is one of the expanded capabilities of the Freight Performance Measures (FPM) initiative, which is sponsored by FHWA's Office of Freight Management and Operations and operated by ATRI.
The research utilizes GPS technology and truck-specific information, as well as sophisticated software applications, to assess the level at which truck-based freight was affected by traffic congestion throughout 2009. While the general impact of congestion on freight is most significant during AM and PM peak travel times at a majority of the locations, there are several areas included in the study that experience slower than free-flow speeds (which is set at 55 mph for this research) 24 hours per day. There are also locations that, when averaged annually, have little or no congestion.
"The continued monitoring of freight-significant highways by ATRI and FHWA provides both the private and public sectors with the ability to identify and address deficiencies in the freight system," says Chad England, president of C.R. England North America. "As this research moves forward, the myriad system performance measures that FPM generates will allow decision makers to prioritize highway investment in a way that targets critical needs. Additionally, the private sector can use this research to identify opportunities for routing through congested areas."
More information on the study is available at www.atri-online.org. n