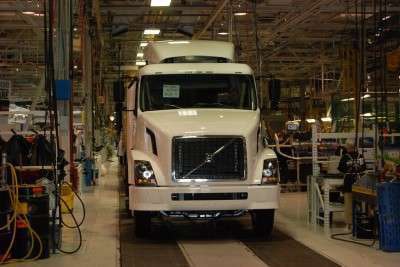 Volvo Trucks North America and Mack Trucks Inc. on Tuesday, July 13, announced that orders for Class 8 trucks equipped with U.S. Environmental Protection Agency 2010-certified Volvo Group engines have surpassed the 10,000 mark. Equipped with selective catalytic reduction technology, these vehicles are designed to deliver near-zero emissions and fuel economy improvements of up to 5 percent.
"Passing the 10,000 mark in Class 8 orders is a testament to how well we've executed our EPA 2010 project," says Ron Huibers, VTNA senior vice president of sales and marketing. "The reports we're getting from customers, particularly when it comes to performance, reliability and fuel efficiency, have been extremely positive."
Mack MP engines feature the Mack ClearTech selective catalytic reduction system. "We had the trucks in customer hands early and often for testing, and we were ready to go soon enough to start production last fall," says Kevin Flaherty, Mack senior vice president of sales and marketing.