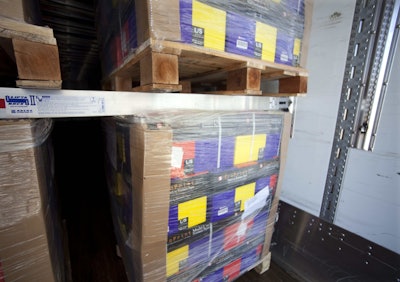 Con-way Truckload on Wednesday, June 14, announced the introduction of DoubleStack, a cargo loading and capacity management system designed to allow shippers to more fully and efficiently utilize space in trailers while securing freight more effectively to prevent shipment damage.
The company says it initially has converted 100 of its standard 53-foot truckload trailers to the DoubleStack system, with additional unit conversions planned for later this year, based on customer demand. The racking system allows for loading of cargoes on two separate adjustable levels throughout the length of the trailer, accommodating shipments of different dimensions while more fully utilizing the trailer. In addition, custom-designed strapping mechanisms enable shipments to be tied down securely to prevent movement during transit and provide added protection against damage.
"We are continually exploring ways to bring our customers advantages that enable them to obtain the highest value for the transportation dollar," says Herb Schmidt, president of Joplin, Mo.-based Con-way Truckload. "With DoubleStack trailers, we're maximizing the available capacity customers can use and adding better protection systems to reduce claims, while driving benefits to our operations through more effective asset utilization."
Con-way Truckload's DoubleStack trailers feature thick aluminum tracks attached to supporting vertical posts every 16 inches along the trailer walls, with adjustable bars, or crossbeams, that clamp securely into each track. The metal crossbeams are height-adjustable and can be set in a variety of horizontal track positions to accommodate freight pallets of different sizes, while maximizing the stability of loaded freight at any point in the trailer and maximizing capacity.
The company says the DoubleStack system is suited for a wide variety of customer goods, including fragile products that must be segregated and traditionally cannot be double-stacked, or pallets with products of varying height dimensions and stability.
Con-way Truckload says that with the addition of DoubleStack trailers, it offers customers:
• Lower costs and reduced facility traffic through maximum trailer capacity utilization;
• The opportunity to consolidate more freight in fewer trailers;
• Flexibility to adjust and respond to varying capacity needs; and
• Protection from damage due to secured freight that resists shifting.

To view a demonstration of the DoubleStack system, go to http://www.youtube.com/ConwayInc.