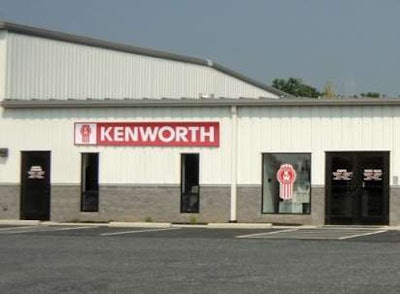 Kenworth of Pennsylvania has expanded its operation with a new full-service dealership in Shartlesville that provides truck operators comfortable driver amenities, easier accessibility and a wide selection of new Kenworth trucks. Kenworth of Pennsylvania-Shartlesville is a-25,000 square-foot full-service facility is located on a nearly 8-acre site at Exit 23 off U.S. Interstate 78. The dealership has five drive-through bays, one of which is dedicated for truck washing and preventive and express maintenance services, including Kenworth PremierCare ExpressLube.
"Our new location in Shartlesville is the second new facility we've opened in the past two years," says Gary Mitchell, president of Kenworth of Pennsylvania, which also operates dealerships in Carlisle, Clintonville, Dunmore, and New Stanton, Pa. "Kenworth of Pennsylvania is committed to supporting customers across Pennsylvania with state-of-the-art facilities in easy-to-find locations that provide ample parking. The Shartlesville dealership is conveniently located across the street from a new major truckstop."
The dealership offers Kenworth PremierCare parts and service programs; PacLease services such as customized full-service leasing programs and truck rentals; and Paccar Financial support through flexible retail loans, leases and insurance products for the transportation industry. The Shartlesville dealership offers a wide selection of heavy- and medium-duty trucks.
Kenworth of Pennsylvania-Shartlesville, located at 16 Motel Drive, is open from 7 a.m. to 7 p.m. Monday through Friday and from 7 a.m. to 3:30 p.m. Saturday. The phone number is 610-488-1660 or toll-free at 877-242-9320. The dealer website is www.kwofpa.com. Key personnel include Bill Sims, general manager; Todd Kauffman, new truck sales manager; Troy Morgan, parts manager; and Bob Green, service manager.