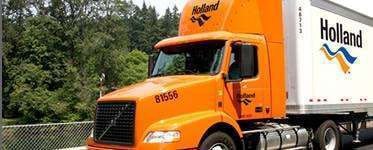 Holland, a subsidiary of YRC Worldwide Inc., has been named 2009 LTL Carrier of the Year by TTS, a third-party transportation and logistics provider. To determine rankings, TTS rated its suppliers based on criteria such as on-time performance, ease of use, technology and revenue for the year from TTS. Agents and employees of TTS then voted to determine the winners.
"Service quality is a top priority for our team of professionals at Holland," says Jeff Rogers, president of Holland, based in Overland Park, Kan. "It is an honor to be recognized by Total Transportation Services for doing what we have long considered to be the core of our business – providing an exceptional customer experience."
This marks the fourth time this year that Holland has been recognized for an exceptional customer experience. The company also has secured a 2009 Supplier Excellence Award for the fourth consecutive year from Eastman Chemical Co., a 2009 Regional Carrier of the Year Award from Echo Global Logistics and a 2009 Carrier of the Year award from Hamilton Sundstrand Logistics Council.