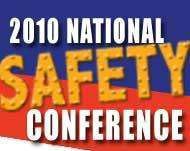 The National Private Truck Council will hold its eighth annual National Safety Conference Sept. 9-10 at the Hyatt Dulles in Herndon, Va., which is located close to Dulles International Airport, just outside of Washington, D.C. This year's safety conference has been designed to optimize return-on-investment for all attendees, says Randy Perry, fleet safety manager for Frito-Lay Inc. and chair of the NPTC Safety Committee.
The conference features a format of presentations, discussions with key government representatives, expert panels and safety advocates and practitioners – all designed to provide attendees with insights into implementing strategic safety programs and lowering the cost of risk.
The program kicks off with two separate keynote addresses – the first from Bill Graves, president and chief executive officer of the American Trucking Associations, who will share his perspective about the myriad business, regulatory, environmental and infrastructure challenges that private fleets will face in their efforts to improve highway safety; and the second from Don Osterberg, senior vice president of safety, security and driver training for Schneider National, who will share his vision and program for building a culture of safety at one of the nation's largest and most successful truckload carriers.
In addition to the opening presentations, specific panel presentations are planned on the following topics:
• CSA Panel Discussion – Regulatory compliance traditionally has been recognized as a foundation for safe operations. With Comprehensive Safety Analysis 2010, the Federal Motor Carrier Safety Administration promises to develop more effective and efficient methods for FMCSA, together with industry and state partners, to achieve its mission of reducing commercial motor vehicle (CMV) crashes, fatalities and injuries.
• Sleep Apnea: The Science, Regulatory Mandate and Liability – This session will detail critical information needed to support the diagnosis and treatment of sleep apnea from the private fleet perspective. Included will be the latest scientific evidence, the regulatory perspective, operational concerns and liability issues.
• What Take-Away Lessons Fleets Can Learn from Accidents – Fleet safety performance and management philosophies often are the focal point of post-accident litigation. Compliance with federal regulations simply is not enough to protect a private fleet from legal exposure; therefore, setting a higher standard of safety practices in key areas may be in order. Learn from a leading practicing attorney and an insurance carrier executive how your fleet may be vulnerable and what you can do to help shield your operation from claims of negligence.
• Predictive Modeling – Learn how to identify any gaps and opportunities in your existing fleet risk management approach by investigating your performance in a number of safety-related areas. Failure to properly control any of these areas can lead to increased safety, environmental, liability and operational costs. This audit can be used to make changes and implement sound risk management policies for the future and, in the process, help you minimize costs and make your organization more effective, safe and cost-efficient.
• Case Studies in Excellence – Motivated by the fact that too many companies within American society accept motor vehicle crashes as a cost of doing business, certain private fleets are demanding change, taking accountability and adhering to a zero-tolerance philosophy. Two of these private fleet practitioners will share how they have infused safety into their operations, beginning with a commitment from the top and reaching into every department, extending through the hiring, training, coaching and performance review processes.
Another highlight of the program will be four concurrent "Safety in the Round Breakout Sessions" that will focus on technology issues, driver compliance challenges, equipment and maintenance concerns and driver wellness initiatives. These sessions will be facilitated by private fleet safety professionals who not only will share their experience but also will facilitate dialogue centered on improvement and operational excellence.
Finally, the National Safety Conference will feature the National Driver All-Stars Luncheon and Recognition Ceremony, followed by a driver panel presentation in which the award-winning drivers will share insights and perspective on how fleets can elevate the role of the driver in achieving safety, compliance and customer service objectives.
"The last three years, the National Safety Conference played to record attendance," Perry says. "We want to encourage anybody that's interested to act promptly to reserve their spot and to be a part of this valuable educational opportunity."
For more information about the National Safety Conference or to register for the meeting, go to www.nptc.org.