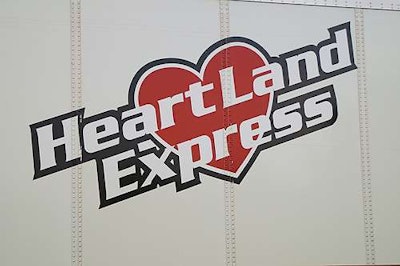 Heartland Express Inc. on Monday, July 19, said operating revenues for the 2010 second quarter increased 8.9 percent to $127.4 million from $117.0 million in the second quarter of 2009. Net income was $16.7 million compared to $17.6 million, a 5.5 percent decrease, which the company attributed to a decrease in gains on disposal of property and equipment and increased depreciation expense primarily attributable to the purchase of new tractors during 2009. Heartland Express posted an operating ratio (operating expenses as a percentage of operating revenues) of 82.7 percent and a 13.1 percent net margin (net income as a percentage of operating revenues).
For the six-month period, operating revenues increased 4.8 percent to $243.0 million from $232.0 million in the 2009 period. Net income was $28.5 million compared to $31.8 million, a 10.1 percent decrease. The company posted an operating ratio of 84.4 percent and an 11.7 percent net margin.
The North Liberty, Iowa-company said it continues to post low operating ratios in a tough operating environment, and that the increase in operating revenues resulted from the tightening of available industry capacity. The company said that while freight demand continues to lag dramatically behind that experienced in 2007 prior to the recent recession, freight rates have stabilized and equipment utilization has improved in comparison to last year.
The company said it is positioned to add capacity and continue to increase utilization to take advantage of opportunities resulting from decreased industry capacity, but that the industry continues to be challenged by driver recruitment and retention, a challenge expected to amplify with the implementation of the safety requirements of Comprehensive Safety Analysis 2010 and the anticipated decrease in qualified drivers.
Heartland Express said it continues to benefit from the focus on the reduction of idle hours and strategic fuel purchasing decisions, which offset a portion of the rise in fuel costs. The company said it anticipates delivery of new 2011 International ProStars in the third quarter, a fleet upgrade that will position it to take advantage of growth opportunities.