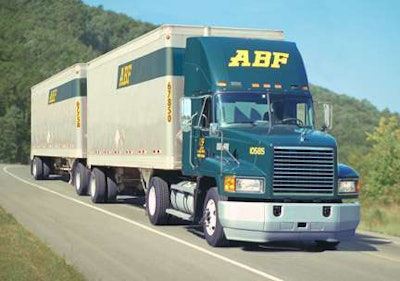 Arkansas Best Corp. on Wednesday, July 21, announced a second-quarter 2010 net loss of $7.4 million compared to a net loss of $15.4 million in the second quarter of 2009. Revenue was $411.3 million, a per-day increase of 13.4 percent from $362.6 million.
"An improvement in daily tonnage levels at ABF was the major reason our second-quarter loss narrowed compared to last year," said Judy R. McReynolds, president and chief executive officer of Arkansas Best, based in Fort Smith, Ark. "We have been encouraged by the modest, but positive, pricing trend during the quarter and the fact that our customers continue to benefit from the traditional level of superior service for which ABF is known. However, overall freight levels and yields need to continue to improve in order for ABF to return to consistent profitability."
ABF Freight System saw revenue of $379.4 million compared to $343.8 million, a per-day increase of 10.4 percent. Total tonnage per day increased 11.9 percent versus and a sequential increase of 14.0 percent. ABF's operating loss was $12.6 million compared to an operating loss of $26.8 million, and its operating ratio was 103.3 percent compared to 107.8 percent.
"Though some additional labor and equipment have been required as a result of the recent tonnage increases, this quarter's improved operating ratio illustrates the operating leverage that is achieved from greater freight levels moving through the ABF network," McReynolds said. "Compared to second quarter last year, ABF benefited from lower nonunion fringe benefit costs which remain on track to produce yearly savings at the high end of the previously discussed $15 to $18 million range. Additionally, workers' compensation and third-party casualty insurance claim costs, as a percent of revenue, were below the unusually high levels of last year's second quarter, though somewhat above longer-term historical averages."
Recent competitor commentary suggests that there is a renewed industry focus on improved pricing and better operating margins, McReynolds said. "We have been encouraged by the improved economy so far this year and its resulting positive impact on our business," she said. "However, the economy remains fragile, and we are therefore prepared for a modest rate of recovery. Our corporate strategy is designed to effectively manage through all market conditions."