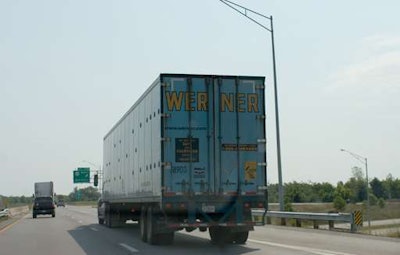 Werner Enterprises Inc. on Wednesday, July 21, announced that operating revenues for the second quarter ended June 30 were $463.5 million, a 15 percent increase from the second quarter of 2009. Trucking revenues, net of fuel surcharges, were $326.5 million, a 5 percent increase. Value Added Services ("VAS") revenues were $65.1 million, a 29 percent increase. The company posted an operating ratio of 92.3 percent, a 220 basis points improvement from 94.5 percent. Earnings per diluted share were 29 cents, a 63 percent increase compared to 18 cents per diluted share. Net income improved to $20.9 million from $12.7 million.
The company said its freight shipment load counts continued to strengthen throughout each month of second quarter 2010, in addition to the load count growth that occurred in February and March 2010. The company said it remains committed to maintaining its total truck count flat at about 7,300 trucks and is focusing on improving its returns on assets, equity and capital.
The company said improved freight market conditions and its proactive fleet management decisions enabled its to be more selective with its freight choices, resulting in improved miles per truck, fewer empty miles and a better rate per mile. In addition, much higher spot pricing and some contractual rate increases contributed to Werner's rate per total mile improvement.
Werner said most of the improvement in the freight market over the last six months can be attributed to a decreasing supply of truck capacity rather than rising demand, but that both factors are helping the freight market improve. Inventory restocking also appeared to improve demand in recent months, particularly with many of Werner's large retail customers.
The company's brokerage data suggests that carrier failures have begun to slow in recent weeks due to an improving freight market, but that many carriers are aging their fleets due to the rising cost of new trucks and inadequate rates. In addition, the company believes the challenges of complying with increased government regulations and a lack of available equipment financing are proving difficult for smaller, private carriers.
Werner said the driver market became more competitive in second quarter 2010 due in part to the improved freight market and modified safety regulations anticipated to become effective later this year for drivers and trucking companies. The company admits that it isn't immune to changes in the driver market but argues that its position is better than in prior improving freight cycles because now more than 70 percent of its driving jobs are in more attractive shorter-haul regional and dedicated fleet operations that enable drivers to get home more frequently.