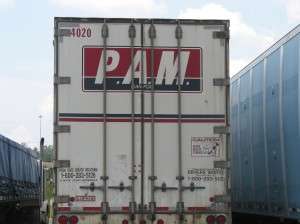 P.A.M. Transportation Services Inc. announced the award of a U.S. Department of Energy grant to help fund alternative fuel vehicles and alternative fuel infrastructure. The grant is a cost-share project for 27 compressed natural gas-powered tractors to operate in the Dallas-Fort Worth metroplex and for a commercial public access fast-fill CNG refueling station to be located in Arlington, Texas.
"P.A.M. Transport is extremely pleased to be able to participate in a project like this on a scale large enough to demonstrate our commitment to American energy independence and clean energy programs," says Dan Cushman, president and chief executive officer. "Our participation in the program will not only represent a big step for P.A.M. Transport, but will also facilitate the participation of others by providing a convenient filling station that will cover the Southwest corner of the Dallas-Fort Worth Metroplex."
The grant award of $2.3 million was a portion of the $13.2 million awarded to the North Central Texas Council of Governments. The grant money will help the region fund 382 fuel-efficient vehicles and 11 refueling stations.