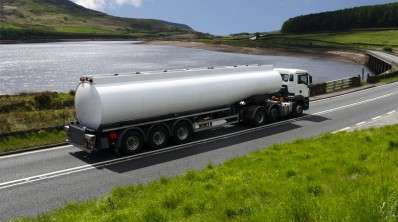 The Federal Motor Carrier Safety Administration is making available a new training video to improve cargo tank safety. "Cargo Tank Driver Rollover Prevention Video" provides cargo tank drivers with best practices and safety tips on how to avoid rollover crashes while transporting hazardous materials. Developed in partnership with the Pipeline and Hazardous Materials Safety Administration (PHMSA) and the National Tank Truck Carriers, the video uses driver interviews and on-road scenarios to highlight the four areas that affect the potential for a rollover: vehicle design, cargo load, highway factors and driver safety. The video's main focus is on driver behavior because in many ways, a safe journey depends on the driver.
"Preventing cargo tank rollovers is a priority for our agency," said FMCSA Administrator Anne S. Ferro. "We are pleased to introduce this new training video that helps cargo tank drivers and carriers avoid dangerous situations that cause rollovers and place our highways at risk."
Cargo tank rollovers account for 31 percent of large truck rollover crashes. In 75 percent of those crashes, unsafe driver behaviors such as inattention or excessive speeding are the primary cause.
[kaltura-widget wid="vsogoap4kg" width="260″ height="211″ addpermission="" editpermission="" align="right" /]"Tank truck rollovers are considerably more dangerous when they involve hazardous materials," said PHMSA Administrator Cynthia Quarterman. "Improved cargo tank truck driver safety will also benefit the general public that shares the highways."
The video, which can be seen in the embedded player on this page courtesy of the FMCSA, will be distributed to cargo tank motor carriers nationwide and is available for viewing or download at http://www.fmcsa.dot.gov/about/outreach/cargo-tank-video.aspx, and from the PHMSA website at https://www.phmsa.dot.gov/about-phmsa/offices/office-hazardous-materials-safety.