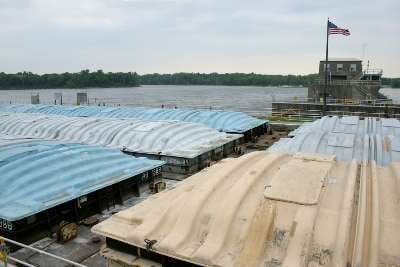 DOT announces corridors for marine highway program
The U.S. Department of Transportation's Maritime Administration has chosen to designate 14 corridors under its new America's Marine Highways program and announced construction projects related to eight of them and various other initiatives for the other six. The eight projects are eligible to apply by the end of the month for a share of $7 million available for funding.
Transportation Secretary Ray LaHood announced the America's program four months ago, saying it would relieve congested highways.
LaHood repeated those sentiments in annoucing the corridors, projects and initiatives. "Making better use of our rivers and coastal routes offers an intelligent way to relieve some of the biggest challenges we face in transportation – congestion on our roads, climate change, fossil fuel energy use and soaring road maintenance costs," LaHood said Aug. 11.
The eight corridors selected for construction projects are:
Cross Sound Enhancements Project (Connecticut Department of Transportation), upgrading passenger vehicle ferries operating between New London, Conn., and Orient Point in Long Island, N.Y.
New England Marine Highway Expansion Project (Maine Department of Transportation), expanding an existing container-on-barge service operating from Newark, N.J. to Boston and then to Portland, Maine.
Cross Gulf Container Expansion (Ports of Manatee, FL, and Brownsville, TX), expanding a container-on-barge operation.
Tenn-Tom Waterway Pilot Project (Port Itawamba, Miss.), establishing a new container-on-barge service between the Port of Itawamba, Miss., on the Tennessee-Tombigbee Waterway and the Port of Mobile, Ala.
Gulf Atlantic Marine Highway Project (South Carolina State Ports Authority and Port of Galveston, TX): this project is intended to transport containerized freight between Gulf, Mid-Atlantic and South Atlantic coastal ports on a modern fleet of U.S. flag vessels.
Detroit-Wayne County Ferry (Detroit/Wayne County Port Authority), developing a cross-border passenger service between Detroit and Windsor, Ontario, focusing on transporting commuters.
Trans-Hudson Rail Service (Port Authority of New York and New Jersey), expanding the cross-harbor rail float service operating between the Greenville Rail Terminal in Jersey City, N.J., and Brooklyn, N.Y.
James River Container Expansion (Virginia Port Authority), expanding an existing container-on-barge service between the Hampton Roads region of Virginia and Richmond.

In addition to the America's Marine Highways project designations, Secretary LaHood also identified six initiatives eligible to apply for federal funding for further development of concepts:
Hudson River Food Corridor Initiative (New York City Soil & Water Conservation District), evaluating the feasibility of an alternate means of transporting fresh produce from agricultural regions in North-Central New York near the Hudson River and Long Island to the New York-Newark Metropolitan Area via water
New Jersey Marine Highway Initiative (New Jersey Department of Transportation), assessing the feasibility and opportunities to develop a network of Marine Highway services within New Jersey and between New Jersey and ports in New York, Massachusetts, Rhode Island, Connecticut, Maryland and Virginia
East Coast Marine Highway Initiative (Ports of New Bedford, MA, Baltimore, MD, and Canaveral, FL), potential development of a Marine Highway service using a fleet of existing and new-build U.S. flag vessels to transport both international containers and trailers to destinations along the I-95 Corridor
West Coast Hub-Feeder Initiative (Humboldt Bay Harbor, Recreation and Conservation District), assessing the feasibility of an intermodal distribution network served by a Marine Highway service along the coastlines of the states of Washington, Oregon and California
Golden State Marine Highway Initiative (Ports of Redwood City, Hueneme and San Diego; and the Humboldt Bay Harbor, Recreation and Conservation District), evaluating a service linking California's ports to form a 1,100-mile Marine Highway along the west coast
Illinois-Gulf Marine Highway Initiative (Heart of Illinois Regional Port District), evaluating opportunities for a Marine Highway service to support Midwest industrial production and operating between U.S. Gulf Coast seaports and Peoria, Ill., via the Mississippi and Illinois Rivers.

To date, the Department has awarded $58 million in grants for projects to support the start-up or expansion of Marine Highways services.