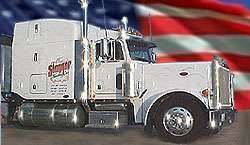 J.W. Stenger Trucking Inc. of Barnesville, Ohio, has begun using Transflo Express truckstop scanning from Pegasus TransTech. The diversified truckload carrier operates 70 units that range the lower 48 states with refrigerated, dump body and flatbed trailers for a variety of customers. The company employs both company drivers and owner-operators.
Before signing up for Transflo Express, the company was paying UPS and FedEx bills in excess of $2,000 a month to get paperwork from drivers on the road to headquarters for processing and billing. "Transflo Express gets the paperwork here quicker, and it costs less," says owner Joe Stenger. "It has worked out well."
With Transflo Express, drivers hand their delivery documents to a cashier for scanning at more than 750 truckstop locations in the United States and Canada, including all Pilot Flying J travel centers and Love's travel stop locations. In seconds, these documents are sent electronically to the fleet for immediate billing and payroll processing, expediting document delivery and allowing fleets and drivers to get paid faster.
"We're very pleased to be working with a growing carrier like J.W. Stenger," says Frank Adelman, Pegasus TransTech senior vice president. "Transflo Express saves money while speeding cash flow. The value quotient is very high."