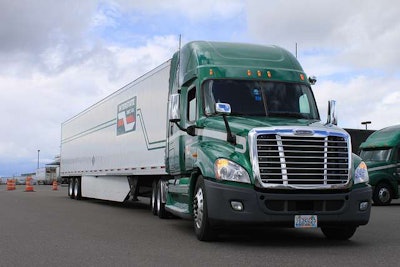 Interstate Distributor Co., Freight Wing and the Pacific Northwest Pollution Prevention Resource Center on Thursday, Aug. 19, announced the beginning of what the companies described as one of the industry's largest installations of trailer side skirts. Partially funded by an $875,972 grant from the U.S. Environmental Protection Agency's Diesel Emissions Reduction Act in a cost-sharing program, Interstate began installing 2,058 Freight Wing Aeroflex side skirts in July at its maintenance facilities.
Headquartered in Tacoma, Wash., Interstate Distributor is a truckload carrier with a fleet of more than 2,000 tractors and 6,800 trailers. "We greatly appreciate this opportunity presented to us by the EPA, and to work with PPRC and Freight Wing," says Lee Owens, senior vice president of maintenance and facilities for Interstate Distributor. "We expect great success with the project."
Owens says Interstate Distributor has tested the side skirts for the past few years and has seen up to a 5 percent improvement in fuel economy depending upon route and speed; the higher the average speed, the better the performance. The side skirts are constructed of durable plastic panels combined with a flexible bracing system designed to absorb and deflect both ground and side impacts. "We think it's a great thing that the EPA is stepping up to help companies implement fuel and emissions savings technology," he says. "Everyone wins, and we hope grants continue for our industry to help the trucking community and the environment."
According to Sean Graham, president of Freight Wing, the company's Aeroflex side skirts – which reduce aerodynamic drag by preventing wind from hitting the trailer's wheels and axles – have been verified by EPA's SmartWay program and tested to increase fuel economy by 7 percent in independent SAE/TMC J1321 track testing conducted by Energotest 2008.
According to PPRC, the Interstate project is expected to save 1.1 million gallons of diesel a year, more than 16 million gallons over the lifespan of the skirts, while preventing 182,633 tons of greenhouse gas emissions. According to Dennis McLerran, EPA regional administrator in Seattle, PPRC offers both health and economic benefits to local communities when they help make trucks more streamlined and fuel-efficient. "These aerodynamic upgrades reduce fuel consumption and save money," McLerran says. "By helping fleets update their vehicles, PPRC, through the DERA grant, provides much-needed assistance to the transportation industry, while reducing diesel pollution health risks in the communities it serves."
Another EPA DERA opportunity is expected to be announced in October. Fleets need to work with a nonprofit organization, such as PPRC, to apply for funding.