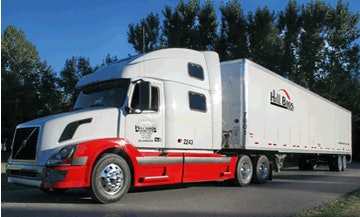 Decisiv Inc., provider of an advanced Web-based technology designed to connect fleet managers with internal and external service locations, announced that Hill Brothers Transportation has adopted MVASIST, the service management platform in use at Volvo Trucks North America dealer locations. The cloud-based computing technology provides Hill Brothers with a Web-based communications portal for valuable information on repairs and service throughout its network of Volvo Trucks dealers.
Based in Omaha, Neb., Hill Brothers Transportation is a dry and refrigerated carrier providing long-haul, regional and dedicated transportation services. Founded in 1986, the company operates terminals in Omaha and Kansas City, Mo., and drop yards in Chicago, Dallas and Denver, serving customers with 340 tractors and 1,000 trailers.
"We began using the MVASIST platform to improve the consistency and timeliness of repairs we have done at dealer service locations," says Andy Gomel, breakdown manager at Hill Brothers. "About 30 to 40 percent of our maintenance and half of our repairs are handled by Volvo Trucks dealers. While we were skeptical at first, we've been impressed with the communication capability of the Decisiv platform. It helps set and manage expectations so service and repairs are completed in a timely manner, reducing downtime, lowering costs and helping us achieve our on-time service promise."
With MVASIST, Hill Brothers communicates with dealers, even before a vehicle arrives at a service location. With access to an electronic folder of vehicle information, service facilities can view a fleet's or individual vehicle's preferred maintenance and repair procedures, warranty coverage, parts pricing programs and more. The platform also becomes the main conduit for information about the status of a repair, streamlining communication for both parties.
"Decisiv developed MVASIST in partnership with Volvo Trucks North America to provide fleets with a more effective and consistent method of communication with service providers," says Derek Messulam, senior vice president of Decisiv. "For Hill Brothers and a growing number of other fleets, the platform is helping ensure that repairs are handled accurately and in a timely manner, getting trucks back on the road faster."