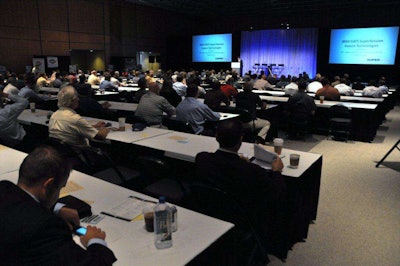 More than 350 trucking industry leaders gathered in Dallas Aug. 25-26 to attend the inaugural Commercial Vehicle Outlook Conference, produced by Randall-Reilly Business Media & Information and the Heavy Duty Manufacturers Association. CVOC brought together thought leaders from all segments of the trucking industry to enjoy expert presentations, panel discussions and numerous networking opportunities during two half-days immediately prior to the opening of the Great American Trucking Show.
CVOC attendees included fleet executives, truck OEMs, part and component suppliers, truck dealers, distributors, and maintenance and repair specialists. Attendees took home real-world insights into the state of the recovery and what the industry must do to survive and thrive in the fourth quarter and beyond.
"Response from attendees and sponsors to the CVOC was overwhelmingly positive," says Alan Sims, vice president and executive director of the Randall-Reilly Events Group. "This year's conference lays the foundation for us to achieve our goal – to make Dallas the destination where professionals from all segments of the trucking industry gather each fall to see the latest equipment, products and services, learn about industry trends and concerns, and network with their peers, suppliers and customers."
"For our first-ever Commercial Vehicle Outlook Conference, we couldn't be more pleased with the outcome," says Tim Kraus, HDMA president and chief operating officer. "The leaders of our industry were there as attendees and speakers, and the conference content scored very high on our attendee evaluation sheets. Bringing together a large cross-section of our industry for a meaningful outlook conference on the commercial vehicle industry was our goal. Based on the more than 350 registrations and the high praise from a great mix of executives in attendance, we feel we are off to a great start for future CVOC events in Dallas, with GATS."
The speaker lineup included keynote addresses by Dan Sobic, Paccar executive vice president, and Tommy Hodges, chairman of the American Trucking Associations. Eric Starks, president of FTR Associates, presented an economic outlook for trucking. Donald Broughton, managing director of Avondale Partners, discussed how capital markets are reacting to trucking trends. Other presenters included Scott Kress, Volvo Trucks North America; Rusty Rush, Rush Enterprises; Joe Plomin, ArvinMeritor CVS; Max Fuller, U.S. Xpress; Leo Suggs, Greatwide Logistics Services; Tom Kretsinger, American Central Transport; and Jim O'Neal, O & S Trucking.
The 2011 CVOC will be held at the Dallas Convention Center Aug. 24-25 immediately prior to the opening of GATS. The event is sponsored by Castrol Heavy Duty, Commercial Carrier Journal, Kenworth Truck Co., Peterbilt Motors Co., Paccar Engines, Paccar Parts, O'Reilly Auto Parts, Utility Trailer Manufacturing and Volvo Trucks North America. For information on participating in the 2011 CVOC, contact HDMA at www.hdma.org or the Randall-Reilly Events Group at info@truckshow.com.