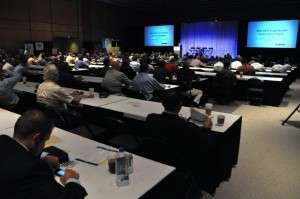 As the trucking industry is beginning to report a slight rebound, The Great American Trucking Show and other events held in the days leading up to the show produced positive results. "This year's GATS proved to be a real success in terms of exhibitor space as well as the attendee turnout," says Mike Reilly, chairman, president and chief executive officer of Randall-Reilly, which owns GATS. "The show itself, as well as all of the meetings surrounding it, attracted very high-quality attendees."
The show floor was up nearly 20 percent over 2009, with almost 450 exhibiting companies in attendance, says Alan K. Sims, GATS vice president and executive director. "Participation from external groups who are holding new meetings, or bringing existing ones to run before, or concurrently with GATS, has really increased the value of the show," he says. "We've received very positive comments from exhibitors, sponsors and attendees."
A new event this year was the inaugural Commercial Vehicle Outlook Conference. The event attracted more than 350 industry leaders from all segments of trucking to enjoy expert presentations, panel discussions and numerous networking opportunities during two half-days immediately prior to the opening of GATS. The CVOC was produced by Randall-Reilly Business Media & Information and the Heavy Duty Manufacturers Association.
"For our first-ever Commercial Vehicle Outlook Conference, we couldn't be more pleased with the outcome," says Tim Kraus, president and chief operating officer of HDMA. "Bringing together a large cross-section of our industry for a meaningful outlook conference on the commercial vehicle industry was our goal. Based on the more than 350 registrations and the high praise from a great mix of executives in attendance, we feel we are off to a great start for future CVOC events in Dallas, with GATS."
Other events attracting qualified fleet attendees included the 2010 Truckload Carriers Association Independent Contractor Meeting, the newly formed TCA Open Deck Division and The Texas Motor Transportation Association's Sand and Gravel Division, as well as their Tank Division. Additionally, a select group of North American truck dealers gathered to discuss their future needs and challenges.
Show management reported overall visitor registrations grew from 45,987 last year to 46,732, an increase of 1.62 percent. Registration increases were noted in the Company Driver, Middle Management, Engineering/Mechanic/Maintenance, Sales/Marketing and Administrative categories, with the areas of Owner-Operator and Fleet/Executive Management remaining strong.
This year's GATS occupied more than 422,000 square feet of space within the Dallas Convention Center. For nearly a decade, GATS has been recognized nationally as one of the 200 largest events in the United States and Canada. Next year's GATS will be held Aug. 25-27 at the Dallas Convention Center.