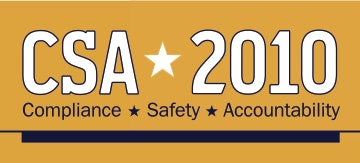 Paccar Leasing and Zonar Systems will hold a webinar to discuss preparations needed for Comprehensive Safety Analysis 2010 from 10 to 11 a.m. PT Thursday, Sept. 16. The webinar is geared for private fleet operators.
Private fleet managers and operators can learn more about CSA 2010 and about specific ways to prepare their transportation operation for the coming changes. Now, under SafeStat, the Federal Motor Carrier Safety Administration limits its analysis of roadside inspection data to violations that result in out-of-service orders. This fall, FMCSA implements the CSA 2010 program, which replaces SafeStat.
CSA 2010 places greater significance on truck maintenance and includes more stringent penalties for violations. All carriers' vehicle inspection and safety records are scheduled to become public information Nov. 30 under CSA 2010. Enforcement begins in 2011.
By attending the webinar, fleets will learn how CSA 2010 will measure a fleet's safety performance in new ways, using inspection and crash results to identify carriers whose behaviors could reasonably lead to crashes. They will also find out how CSA 2010 helps FMCSA and its state partners correct high-risk behavior by contacting more fleets and their drivers, with interventions tailored to their specific safety problem. Fleets will discover how data for CSA 2010 is collected, evaluated and shared and how enforcement officers will use that data to take enforcement actions.
The presenter is Fred Fakkema of Zonar Systems. Fakkema worked for 25 years with the Washington State Patrol where he commanded the Academy Government and Relations Division and the Commercial Vehicle Division. A graduate of the FBI National Academy, Fakkema was responsible for commercial vehicle law enforcement at 54 fixed weighing sites and five ports of entry. At Zonar Systems, he develops information systems to aid in federal regulatory compliance, specifically commercial vehicle inspection.
To register for the webinar, visit the PacLease website at http://www.paclease.com/csa2010.asp. There is no cost for the webinar, which is open to private fleet managers and operators.