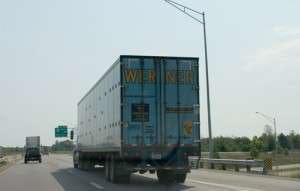 Werner Enterprises announced the recent launch of its newly redesigned website. After taking input from associates, investors and customers, an improved www.werner.com was created with an increase in interactivity and customized to better serve the needs of its valued users.
With the revamped website, minimal clicks take users to their destination. The Omaha, Neb.-based company says this simple straightforward design will make finding information easier than ever. In addition, in-depth product information will be available to customers, as well as details of how Werner Enterprises' services can impact customers' supply chain needs positively.
"We want to deliver the same product anywhere we may be across the globe," says Derek Leathers, chief operating officer of Werner Enterprises and president of Werner Global Logistics. "The redesigned Werner.com has been enhanced with new features, as well as the ability for continued growth."
A number of new features can be found on the redesigned website, including white papers, Werner News, case studies and a new rate quote feature. Additionally, the updated contact section of the website now includes a chat feature that gives anyone the ability to get real-time answers to questions regarding Werner Enterprises' services.