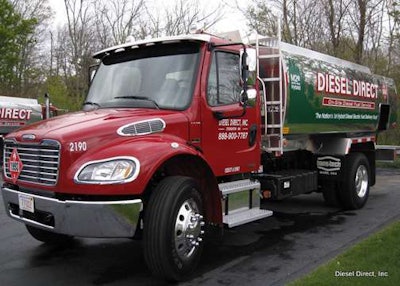 Diesel Direct and Freightliner Trucks together have developed a Freightliner Business Class M2 106 diesel-electric hybrid fuel truck that will be used to deliver fuel to fleets primarily in Massachusetts. Boston-based Diesel Direct uses custom-designed delivery trucks to provide onsite diesel refueling services to national, regional and local fleets, tanks and equipment throughout the United States.
"Because our goal is to provide our customers with a reliable and efficient solution that reduces driver downtime, it's imperative that our equipment is of the highest quality," says Dan Abrams, founder and president of Diesel Direct, whose Freightliner Business Class M2 106 features the Eaton Hybrid Electric Drivetrain System, a parallel hybrid system that enables the truck to operate using the diesel engine alone, or in combination with the hybrid electric motor.
"One of our biggest expenses is just to fuel our own trucks," Abrams says. "With the new Freightliner truck, we expect to save at least 25 to 30 percent in fuel consumption." And according to Abrams, Diesel Direct also sought to create an alternative solution to not only save money on fuel, but to be a good neighbor. "With our new electric hybrid truck, we can shut off the engine while pumping fuel, which not only significantly reduces fuel consumption, but greatly decreases noise. We often pump fuel at night and in residential neighborhoods, so it's a real benefit."
The Freightliner Business Class M2 106 is suited for a variety of applications, especially in urban environments where maneuverability and visibility are top priorities.