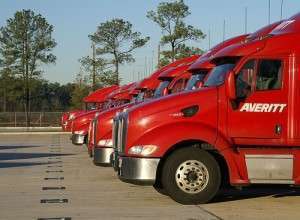 For the second straight year, Averitt Express earned the Clean Diesel Leadership Award from the Tennessee Trucking Association. The TTA made the announcement at its annual awards ceremony held in Destin, Fla. According to the TTA, the award is designed to recognize organizations within the transportation industry that have made "significant, measurable improvements in air quality through the development and/or implementation of clean diesel actions." These actions range from educating drivers on fuel efficiency to equipping tractors with auxiliary power units to using alternative fuels.
"In an industry like ours, it's vital that we maintain a focus on environmental stewardship and sustainability," says Gary Sasser, president and chief executive officer of Cookeville, Tenn.-based Averitt. "We're extremely honored to have been recognized by TTA two years in a row for our 'green' efforts. The entire Averitt team takes great pride in continually finding new ways to be environmentally friendly."
To be eligible for the award, a transportation provider must demonstrate environmental leadership and meet such criteria as: directly or indirectly reducing air pollution through its actions; developing a replicable model with measurable, sustainable outcomes that other companies can follow; and employing technology aimed at reducing diesel engine emissions. Award entries are judged by members of the Southeast Diesel Collaborative Leadership Group, the Tennessee Department of Environment & Conservation and the Tennessee Department of Transportation.
A founding partner of the U.S. Environmental Protection Agency's SmartWay program, Averitt has taken numerous steps to reduce its environmental impact, including:
• Using only ultra-low-sulfur diesel at in-house fueling stations, helping reduce emissions of particulate matter and nitrogen oxides;
• Equipping road tractors with auxiliary power units to maintain driver comfort and reduce fuel use through idling when parked for extended periods of time;
• Installing sophisticated electronic technology that gathers data from tractor engine computers to track and measure fuel efficiency;
• Equipping trucks with systems that automatically shut down idling engines;
• Using leading-edge software to plan routes as efficiently as possible and alert drivers to the most cost-effective fueling locations;
• Using biodiesel in select markets;
• Using low-viscosity lubricants and engine oils that lower the frequency of maintenance service intervals, therefore producing fewer waste products;
• Providing numerous e-commerce solutions, such as electronic bills of lading, invoicing and various forms requests, in order to reduce and potentially eliminate paper use; and
• Striving to maintain balance within distribution network to reduce empty miles, thus reducing emissions and fuel usage.