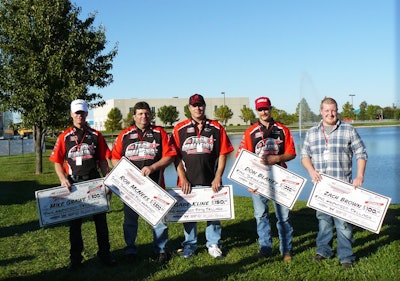 After two rounds of fierce competition, the inaugural "TCI Tech Challenge" competition yielded its first champion. Truck Centers Inc. launched the competition to highlight the knowledge and professional skills of the service technicians that consistently deliver premier customer service to their customers throughout Illinois and Missouri. In all, 45 technicians from five Truck Centers Inc. service departments vied for top honors in the competition that tested the participants' abilities in common diagnostic problems and basic Class 8 truck repairs as well as advanced topics relating to Daimler Trucks of North America products, including Freightliner and Western Star trucks and Detroit Diesel engines.
Rob McNees, a 23-year veteran of TCI-St. Louis, secured top honors and $3,500 in prizes, including an opportunity to represent Truck Centers at the American Trucking Association's TMC "SuperTech" national skills competition. McNees started his career as a porter and worked his way through an apprenticeship before becoming a lead journeyman technician praised for his diagnostic ability and advanced skill set. Other finalists that were acknowledged included Don Blaney (TCI-Springfield), Mike Grawe (TCI-Troy), James Krikie (TCI-Mt. Vernon) and Gabe Kline (TCI-Morton).
Zach Brown of TCI-Springfield was recognized as the top-performing rookie with less than two years experience. Brown joined the Truck Centers' team after graduating from the Universal Technical Institute in Chicago and completing the Finish First program with sponsorship from TCI. Finish First is a 12-week intensive training curriculum for diagnostic assessment and repair of DTNA products.
"The Tech Challenge Competition was created to highlight the skills and professional training that our technicians bring to the Truck Centers' network of dealerships," says Katie Hopkins, executive vice president. "Their talents are what help us consistently deliver superior customer service and minimal downtime to our customers. The fact that all of our full-service dealerships were represented in the final round indicates the consistency and quality that we strive to deliver with every visit. I would like to congratulate Rob McNees and the other finalists as well as all of the participants for their involvement, support and suggestions that will help us prepare for another exciting competition next year."