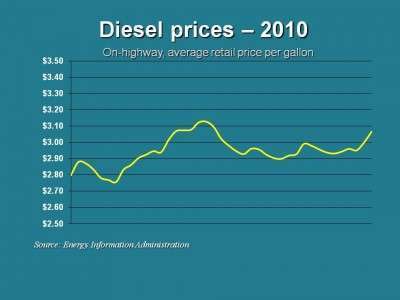 The national retail price of on-highway diesel soared 6.6 cents during the week ended Oct. 11 to $3.066 a gallon, according to the U.S. Department of Energy's Energy Information Administration. The increase — the highest in one week since early April — follows a 4.9-cent jump the week before. The price of diesel is 46.6 cents higher than the same week last year and is at its highest level since the weeked ended May 17.
Diesel prices were higher in all regions than they were the week before. The largest jump, 8.3 cents, was in the Central Atlantic region. The smallest rise was 3.6 cents in California, and California diesel at $3.215 a gallon is no longer the most expenisve in the nation. After jumping 7.4 cents, the price of diesel in other West Coast states is $3.239. The least expensive diesel was in the Gulf Coast; the $2.982 average price made the Gulf Coast the only region in the country where the price was below $3.
Average retail prices for all regions are available on EIA's website.