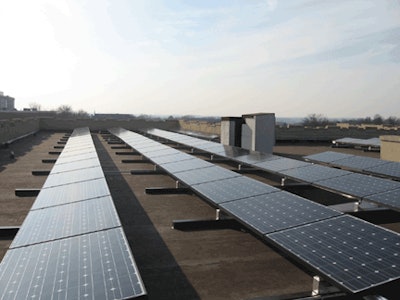 A Duie Pyle announced the construction of the company's first large-scale solar system installation at its 570,000-square-foot warehouse facility in Parkesburg, Pa.. The installation, managed by MainLine Solar of West Chester, Pa., is one of only 10 megawatt solar projects to be implemented in the state of Pennsylvania. Construction is scheduled for completion in December.
The installation involves a roof mount of 4,464 flat-panel modules and will cover about 50 percent of the facility's rooftop. Once completed, Pyle will have the technology to generate 1,139,213 kilowatts, or just more than one megawatt, of solar energy. The solar energy produced will supply 100 percent of the electricity needs for the warehousing and distribution facility.
"Saving energy costs and protecting the environment are not mutually exclusive," says Peter Latta, owner and chairman of A. Duie Pyle. "The installation of solar panels at one of our largest facilities is a bold move, but an important step in our plan for sustainability. Like many of our customers, 'going green' has become part of oursustainable growth strategy."
Pyle is a member of SmartWay, a program launched by the U.S. Environmental Protection Agency in 2004 to help improve the energy efficiency of freight movement across all modes of transportation in the industry. The Parkesburg facility, one of the company's largest warehouses, was purchased by Pyle in 1999 to serve The Scotts Miracle-Gro Co.'s northeast product distribution needs.
"A. Duie Pyle is the largest third-party warehouse for Scotts and will soon be 100 percent solar," says Jim Iovino, vice president of global logistics of Scotts Miracle-Gro. "Sustainability and developing sustainable products are a corporate priority for Scotts, and we applaud A. Duie Pyle for this bold endeavor."
Pyle's warehouse layout and flat rooftop design make it suitable for solar conversion and high energy output. Initial steps to the conversion began six years ago, when Pyle implemented a companywide energy management plan to reduce its electric lighting load by nearly 60 percent.
The company's Parkesburg solar installation is one of 40 energy projects this year to receive a state grant through the Pennsylvania Energy Development Authority, with Pyle receiving $450,000. Additional economic incentives under the American Recovery and Reinvestment Act of 2009, which allows owners of commercial solar property to recover 30 percent of the cost of their system, also were available to the company.