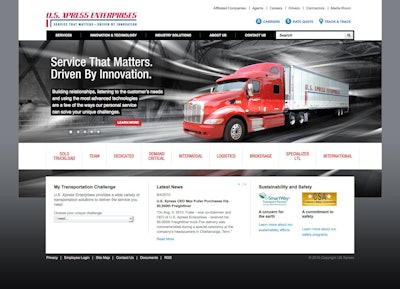 U.S. Xpress Enterprises, a Chattanooga, Tenn.-based provider of transportation services throughout North America, announced the launch of a new website at www.usxpress.com to better serve the needs of its customers, drivers and employees. "Driven by our commitment to continuously enhance customer service, our goal for the website is to deliver a new level of customer satisfaction," says Max Fuller, co-chairman and chief executive officer. "We want to be as relevant and resourceful as possible to those who utilize U.S. Xpress as their shipping partner of choice."
U.S. Xpress says that in addition to rich content and improved navigation, the new website will highlight its latest rebranding efforts. Service offerings have been simplified to make it easy for a customer to identify and select what they need. One of the key features of the site is the "Transportation Challenge" section, which will connect a specific need with a particular service.
"The new website will enable our customers to find industry-specific information that is geared directly toward them and the solutions they are seeking," says Patrick Quinn, co-chairman and president. "In addition to customer service, we are driven by innovation and are always looking for better, more efficient ways to operate and answer our customers' challenges. This website is just one way that we are utilizing technology to go above and beyond."
Other features include RSS feeds, which individuals can subscribe to for updates on new white papers, news, events, videos and other new developments from U.S. Xpress. Other features include an easy-to-use track and trace center, request a quote function, and order entry forms.
The site also includes links to important information for drivers, independent contractors, agents, carriers and staff. Additionally, job seekers can subscribe to U.S. Xpress job alerts, which will inform them of new job openings that match their criteria. "The market for hiring quality, professional drivers is becoming more competitive than ever before," Fuller says. "This site will enable the company to enhance our driver recruiting efforts by showing the value of working with U.S. Xpress."
The new website is segmented by solutions (Solo Truckload, Team, Dedicated, Demand Critical, Intermodal, Logistics, Brokerage, Specialized LTL and International) and industry (automotive; consumer products; floor coverings; food, beverage and grocery; manufacturing; retail; and 3PL) so that the content is relevant to the individual.