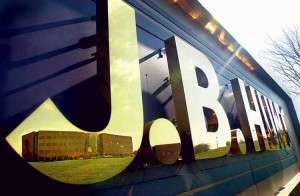 J.B. Hunt Transport Services Inc. on Thursday, Oct. 14, announced third-quarter 2010 net earnings of $52.2 million — up 31 percent over third-quarter 2009 earnings. Third-quarter 2010 results included $4 million of pretax expense related to a $5 million commitment to Arkansas Children's Hospital, which reduced net earnings by 2 cents per diluted share.
Total operating revenue was $986 million, an 18 percent increase over the same 2009 quarter. The company attributed the increase primarily to higher Intermodal segment volumes, significant growth in the company's Dedicated Contract Services segment and revenue growth in its Truck segment. Utilization of equipment also improved, as did pricing in the Truck segment. Current quarter operating revenue, excluding fuel surcharges, increased 15 percent.
Operating income rose 29 percent to $91.5 million, primarily due to a 22 percent increase in Intermodal operating income, a 17 percent increase in DCS operating income and positive Truck operating income. J.B. Hunt's Truck segment lost money on an operating basis in the same 2009 quarter.
"We continue to distance ourselves from the 'Great Recession' by increased revenues, operating income and net earnings," said Kirk Thompson, president and chief executive officer of Lowell, Ark.-based J.B. Hunt. "Though freight volumes backed off from the torrid pace we saw in June, demand remained steady across all segments. In Intermodal, we continued to see record numbers of loads and double-digit increases compared to prior periods despite the fact that, unlike most of the intermodal industry, we were growing last year, making the comparables more difficult for us."
Sept. 30 was an all-time high in load count for a single day in Intermodal. "We expect to surpass one million loads for the first time later this year," Thompson said.
Thompson said DCS load volume – which the company believes is a strong indicator of current customer demand and the general direction of the freight economy – continues to point toward steady business activity. Also, contract pricing – reflecting improvement in supply and demand balance in both Intermodal and Truck – rose sequentially from this year's second quarter and from the same period a year ago. "Assuming demand remains near current levels, we expect to see freight rates continue to rebound from the unsustainable lows we saw during the recession," he said.
During the current quarter, J.B. Hunt reactivated and increased certain compensation and benefit programs. "We were able to make these moves as profits rebounded quicker than we had anticipated going into 2010," Thompson said.