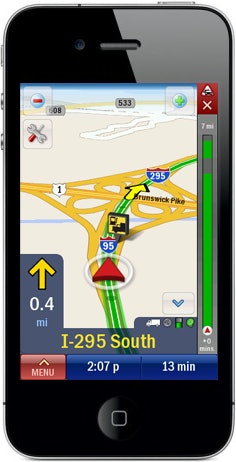 ALK Technologies announced the release of CoPilot Live Truck for iPhone. CoPilot Live Truck is a voice-guided GPS navigation app designed specifically for professional truck drivers.
Available immediately to download from the iTunes App Store, the new app makes truck-specific GPS navigation more portable and more affordable than dedicated navigation devices, the company says.
Based on driver and vehicle profiles, CoPilot Live Truck automatically calculates routes taking into account vehicle size, weight, width and load type to avoid commercial truck restrictions. Truck-specific capabilities include:
• Avoids low bridge clearances and weight/height/width-restricted roads
• Avoids HazMat or flammable materials-restricted roads as appropriate
• Commercial Truck routing options include – Practical, Shortest, 53'/102" Trailer or Twins, National Network and Toll Avoidance
• Ability to create custom trip, vehicle and driver profiles
• Truck-specific POIs including weigh stations, CAT scales, rest areas, truck stops, and truck service facilities
• Generate state mileage logs to provide an accurate record for billing and tax calculation
CoPilot Live Truck features ALK Digital Maps of the U.S. and Canada enhanced with PC Miler truck-specific routing attributes. All maps are stored directly on the iPhone, eliminating the need for large map downloads each trip. Drivers do not need to rely on a mobile internet connection for navigation, the company says.
CoPilot Live Truck is available to purchase from the iTunes App Store immediately for a one-time cost of $149.99. It is compatible with iPhone 4, 3GS and 3G, as well as iPad 3G.