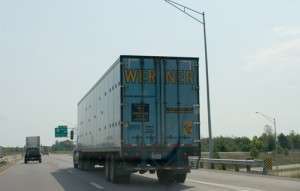 Werner Enterprises on Monday, Oct. 18, reported improved revenues and earnings for the third quarter ended Sept. 30. Total revenues were $463.3 million, up 8 percent from $429.3 million during the 2009 quarter. The company posted operating income of $40.1 million, up 22 percent from $32.8 million, and net income of $24.2 million, up 27 percent from $19 million.
The Omaha, Neb.-based company said freight market trends continued to be good in the third quarter and were better than those in third quarter 2009, but were not as strong as second quarter 2010. Werner said freight trends thus far in October have softened from the third quarter, although the company believed the larger shippers in its network may be shifting freight shipment volumes to large carriers in an effort to secure capacity going into 2011, a softening that seems to be driven more by smaller company shippers being more cautious with their inventory and overall volume projections.
Werner said it believed that capacity is not being added in the truckload industry because of challenges such as tightened equipment financing standards, levered balance sheets, increased government regulations and other factors. The company said it is committed to maintaining its total truck count flat at about 7,300 trucks, and that its primary objectives are to expand margins and improve returns on assets, equity and capital, while staying true to its expanded portfolio of services for our customers, which is comprised of One-Way Truckload (which includes the Regional, medium-to-long-haul Van and Expedited fleets), Dedicated and Logistics (VAS).
Werner said the driver recruiting and retention market became more competitive in second quarter 2010, and that trend continued in third quarter 2010. "Generally, higher national unemployment rates aid our recruiting and retention efforts," the company said. "We believe, however, that an improved freight market, extended unemployment benefit payment programs and anticipated trucking industry safety regulations are tightening driver supply. During third quarter 2010, we implemented proactive measures that successfully improved our driver recruitment and retention despite the competitive driver market."