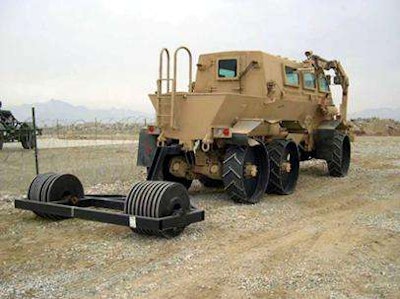 The Mack Military Group within Mack Trucks Inc. recently was awarded a contract in support of the U.S. Marine Corps Buffalo A1 Mine Resistant Ambush Protected vehicle. The contract calls for remanufactured engines and new transfer cases to be used in Buffalo MRAP repair and reset efforts.
"At the heart of every Buffalo A1 is a Mack truck," says Ryan Werling, director of defense sales and programs for the Mack Military Group. "Nearly the entire powertrain, electronic architecture and cab interior are derived from our rugged vehicles and are a true testament to the durability of our products. With the Marine Corps being a major owner and user of Buffalo A1s, we are committed to supporting them in any way we can."
Deliveries will start later this year and continue through the first quarter of 2011. The total value of the contract is about $1.3 million.