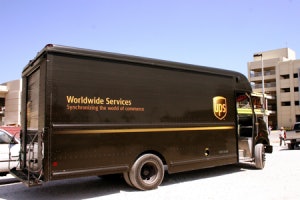 UPS announced today, Oct. 21, that net income for the third quarter of 2010 rose 80 percent to $991 million, up from $549 million a year earlier. Total revenue climbed 9.3 percent to $12.2 billion, up from $11.2 billion.
"UPS once again exceeded expectations due to superior execution across all business units and our ability to provide solutions that create value for our customers," said Scott Davis, chairman and chief executive officer of the Atlanta-based company. "We continue to deliver significant earnings growth and margin expansion in the current economic environment. This is a true testament to what can be accomplished when you have excellent people, superior service and an unmatched global portfolio."
UPS Freight revenue grew 14 percent due to improved yield and increases in gross weight hauled. During the quarter, UPS launched Preferred LCL Ocean Freight, a new service that the company says provides up to 20 percent faster door-to-door delivery than other less-than-container-load services on the market.
"UPS generated superior performance across all segments," said Kurt Kuehn, chief financial officer. "This is a direct result of the successful execution of our long-range strategy. I am confident in UPS's ability to generate strong cash flow and continued earnings growth while investing in growth opportunities around the world."
Kuehn said that based on the projections of retailers and economists, the company expects modest growth during the holiday peak season. "We are raising our full-year 2010 guidance with adjusted earnings per share expected to grow more than 50% over last year," he said.