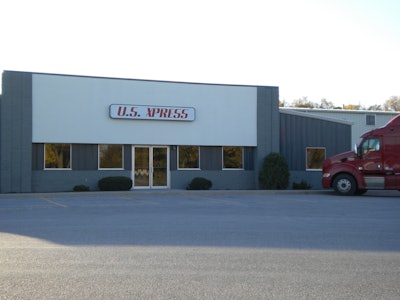 U.S. Xpress Enterprises announced the expansion of its Northeast footprint with the opening of its newest full-service terminal facility in Shippensburg, Pa. The property at 1069 Seibert Ave. is situated on more than 50 acres and spans nearly 70,000 square feet.
Features of the full-service facility include a drivers' lounge with shower facilities and Internet access, convenience store, fuel islands, maintenance shop, parking for trailers and driver vehicles, administrative office space, orientation/training rooms and 37,600 square feet of warehouse space.
"Expanding into the Northeast with a major hub is a strategic move that we have been looking forward to taking for some time now as our customer base and volumes have grown in the region," says Max Fuller, co-chairman and chief executive officer of the Chattanooga, Tenn.-based company. "Having a greater presence in this region enables us to continue to enhance our commitment to providing superior customer service."
U.S. Xpress says the new location brings several jobs to the area, including 50 immediate full-time employees and up to 50 additional positions in the near future for maintenance and office personnel.
"We think Shippensburg is a great area, and the terminal location is perfectly positioned to fit our growth strategies within this region," says Patrick Quinn, co-chairman and president. "One benefit of growth is creating employment opportunities within communities where we have a local presence. Participating in our local communities is a core value to U.S. Xpress, and we are looking forward to a long and mutually beneficial relationship with everyone in the Shippensburg area."
U.S. Xpress purchased the facility, which is located off Interstate 81, from Cressler Trucking Inc. The company says a complete energy-efficient lighting upgrade has been made throughout the facility, with plans for more sustainable initiatives, like materials recycling, in the near future.