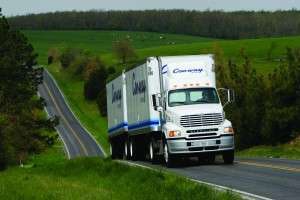 Con-way Inc. on Wednesday, Nov. 3, reported a net loss for the third quarter of 2010 of $8.2 million compared to third-quarter 2009 net income of $13.5 million. Revenue increased 12.1 percent to $1.27 billion, while operating income was $12.5 million compared to $41.1 million. Douglas Stotlar, president and chief executive officer of the San Mateo, Calif.-based company, said that while corporate office consolidation and severance costs reduced current-quarter profits, key operating metrics for Con-way Freight, the company's less-than-truckload operation, improved as the quarter progressed.
Con-way Freight reported revenue of $797.1 million, a 13.1 percent increase over $704.5 million. Yield increased 3.1 percent; excluding the fuel surcharge, yield increased 0.9 percent. Weight per day increased 8.7 percent, while operating income was $13.1 million compared to $22.8 million. Higher purchased transportation, temporary labor and rental equipment expense in the first half of the quarter adversely affected results. Severance and office consolidation costs and the partial reinstatement of 2009's employee wage and benefit reductions also added $4.4 million and about $19 million, respectively, to operating expense. Con-way Freight posted an operating ratio of 98.4 compared to 96.8.
"The lingering effects of the LTL tonnage surge from earlier this year left our LTL business with higher variable costs as we entered the quarter," Stotlar said. "In August, we implemented specific actions to improve performance at Con-way Freight. As a result, we've seen variable costs decline, pricing improve and tonnage levels moderate. We came out of the quarter with positive momentum. We have set a deliberate course for improvement, and we are making steady progress, which we expect will continue through the fourth quarter."
Menlo Worldwide Logistics posted its third consecutive quarterly improvement over 2009, excluding impairment charges. Revenue was $370.0 million, up 6.8 percent from $346.4 million. Net revenue was $140.7 million, which increased 7.2 percent from $131.3 million due primarily to an increase in revenue from warehouse management services. Operating loss was $6.3 million compared to operating income of $9.5 million. "Menlo once again delivered solid growth in revenues, net revenues and operating income," Stotlar said. "Our supply chain and logistics company is executing well across all of its principal business lines."
Con-way Truckload's results were affected by external factors that raised operating costs, while shipper demand moderated toward the end of the quarter. Revenue was $140.7 million, a 3.8 percent decline from $146.3 million. Lower total miles and a higher proportion of empty miles led to a decline in tractor productivity, reflecting changes in fleet composition that had fewer higher-mileage driver teams and proportionally more single drivers. Partially offsetting the decline were higher fuel surcharges and improved revenue per loaded mile (excluding fuel surcharges). Operating income was $5.5 million compared to $10.6 million in last year's third quarter, which included a $2.3 million loss from the sale of tractors. Operating ratio on revenue, exclusive of fuel surcharges, was 95.3 compared to 91.7.
Revenue and operating income also were affected adversely, to a lesser extent, by Hurricane Alex, which in July flooded the Mexico border and stranded portions of Con-way Truckload's trailer fleet. "Revenue per loaded mile improved as pricing remained relatively stable," Stotlar said. "We expect results to improve as Con-way Truckload continues to focus on higher-margin opportunities and increasing asset utilization."