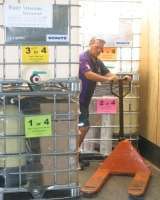 FedEx Corp. announced its recent rapid response to the recent cholera outbreak in Haiti and Hurricane Tomas by assisting nonprofit agencies with disaster relief deliveries to Port-Au-Prince. Ten water purification systems were airlifted to Haiti, and 20 more systems were flown from Miami to Haiti for Water Missions International, in addition to FedEx providing in-kind transportation for the needed components within the United States. Each of these portable water treatment systems can provide clean water for 5,000 people each day, potentially saving some 150,000 Haitians from water-borne illnesses.
FedEx says it places a premium on working with organizations that have on-the-ground capacity to manage their shipments. WMI staff is in Haiti to install the systems and have them running in two hours or less. One WMI treatment system can provide safe water to a community not only during this crisis, but for 20 years or more at a cost of less than one penny per day, per person. Since the January earthquake, WMI has installed 115 water treatment systems in Haiti, serving 200,000 earthquake victims. FedEx says it provided a complementary charter flight to WMI in February following the earthquake and continues to provide in-kind shipping support in the United States.
Pre-existing relationships not only help in ensuring that relief will come quickly once supplies are on the ground; they also help expedite getting the goods in the air as organizations know the right people to call and understand each other's needs and capabilities. Advised that the most urgent need at this time is cots, to be used as hospital beds for the sick, the American Red Cross called their FedEx contact for help. FedEx says it responded by donating transportation for a shipment of 5,000 cots weighing 40 tons. As a member of the Annual Disaster Giving Program, FedEx provides financial and shipping assistance to enable the Red Cross to respond immediately to the needs of individuals and families impacted by disaster.
Earlier this year, FedEx says that it provided more than $1.8 million in-kind and cash support for the earthquake relief efforts in Haiti, including in-kind charter flights to support global relief efforts from agencies including Red Cross, World Vision, Heart to Heart International, Direct Relief International, The Salvation Army and Water Missions International. FedEx says that within one day of the earthquake, it had committed $425,000 in cash to support Haiti relief efforts, and that within seven days it transported more than 520,000 pounds of relief supplies, and within the first month it transported more than 1 million pounds or aid shipments.
FedEx says its logistics expertise and global reach makes it well positioned during natural disasters and emergencies to get critical supplies to those in need quickly. Each year, FedEx says it sets aside space for more than 4,000,000 pounds of charitable shipping.