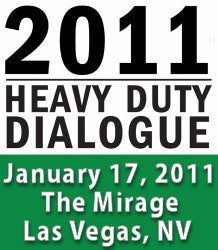 "Game Changers in the Global Commercial Vehicle Industry" has been announced as the theme for Heavy Duty Dialogue 2011, set for Jan. 17, 2011, at The Mirage in Las Vegas, Nev.
Heavy Duty Dialogue is a business conference strategically developed for executives in the global and domestic commercial vehicle industry. HDD'11 immediately precedes Heavy Duty Aftermarket Week '11.
Focusing on the game-changers in the global commercial vehicle industry, this years' conference will concentrate on several themes: Emerging markets and their impact on European and domestic business in trucks and components, defining the "new normal" in the economy, domestic and international truck builds, the capital markets and the effect of the 2010 elections on our industry.
Liz Cheney, international affairs expert and media political analyst, is the featured speaker. Confirmed contributors include:
• Donald Broughton, Avondale Partners
• Ryan Carmichael, Frost & Sullivan
• Patrick Cavanagh, Williams Controls
• Ken Davis, Eaton Corporation
• Merv Dunn, Commercial Vehicle Group
• Derek Kaufmann, Glacier Bay
• Stuart MacKay, MacKay & Co.
• Peter Nesvold, Jeffries Capital
• Juergen Reers, Roland Berger Strategy Consultants
• Eric Starks, FTR Consultants
• Bill Strauss, US Federal Reserve
"The global commercial vehicle industry is in a period of 'game changing', with upcoming inroads by new OEMs entering the NAFTA markets within the next few years representing a period of significant change to the industry," says Timothy Kraus, president and chief operating officer of Heavy Duty Manufacturers Association, the host of HDD'11. "The theme for Dialogue 2011 reflects the need for the commercial vehicle manufacturers to react and plan, and to develop strategies to prosper in what will be the new 'norm.' Our program for HDD'11 foretells what is coming, what may happen in our geopolitical world and the best ways to plan ahead."
For more information on Heavy Duty Dialogue '11, go to www.hdma.org or call HDMA at 919-406-8847.