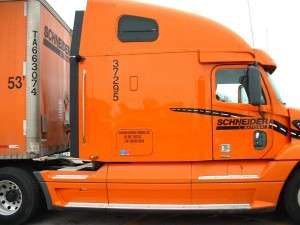 Schneider National announced it has made the G.I. Jobs Top 100 Military Friendly Employers list for the fifth consecutive year. Schneider ranked 23rd on the list, earning recognition for the programs and benefits it offers to our nation's Reservists, National Guard members and veterans.
"Just like the military and its service members, Schneider operates according to our closely held principles and values," says Mike Hinz, vice president of driver recruitment and LTC, retired, U.S. Army Reserve. "At Schneider, our core principles are safety, integrity, excellence and respect. It's no surprise that military personnel thrive here at Schneider. The significant and diverse experiences these folks have had in the military help guide them in their careers at Schneider National and help them excel during our training and quickly adjust to a new work environment."
In addition to its employment efforts, Schneider works with the Employer Partnership Office of the Armed Forces and the Department of Labor to provide veterans, Reservists and National Guard soldiers with a continuum of careers as they leave their military roles. The company also offers specific programs to help members of the military obtain employment:
• ROTC Pays Program: Schneider has joined efforts with the Army training command, which allows college students to select an employer of their choice prior to graduation. Students who choose Schneider know that the company will grant them an interview and hire them if an open position meets their skill sets;
• The Schneider National Military Owner-Operator Program: Provides military personnel with the tools, the training and the support they need to become a successful owner-operator. One of the biggest benefits of this program is that it helps new owner-operators obtain a gently used truck through a special no-money-down no-credit-check lease; and
• Army Reserve Employer Partnership: Schneider National and the Army Reserve work together to recruit, train and employ individuals interested in both serving the nation and pursuing a career in the transportation and logistics industry.
In addition to the benefits package Schneider extends to all associates, military personnel can expect:
• Extended benefits and differential pay for soldiers deployed 18 months;
• Excused time off for weekend drill and annual training (no vacation time required);
• Quick-hire process, allowing active military to apply, interview and be accepted two months prior to separation; and
• Nationwide opportunities throughout Schneider's network of offices, maintenance facilities and operating centers.
Over the last eight years, the G.I. Jobs' list has grown from the Top 25 to the Top 100 Military-Friendly Employers. Companies with annual revenue of at least $500 million are qualified. Of the 5,000 eligible companies, only 2 percent made this year's list. Rankings are based on results of a survey that assesses a company's long-term commitment to hiring former military, recruiting and hiring efforts and results, the presence of special military recruitment programs, and policies for Reserve and Guard members called to active duty.