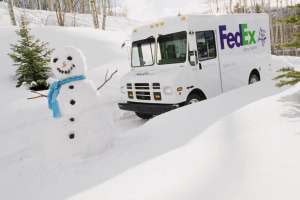 FedEx Corp. said Thursday, Nov. 11, that it expects to see its busiest day in company history when it moves almost 16 million shipments around the world on Dec. 13, more than 12 percent higher from last year's busiest day when the company handled 14.2 million shipments. For the overall holiday season, FedEx is expecting a total volume increase of about 11 percent compared to 2009. FedEx forecasts more than 223.3 million shipments will move through its global networks between Thanksgiving and Christmas.
More than half of the holiday season volume increase will be from FedEx SmartPost shipments. FedEx SmartPost volume is largely driven by online retailers and cataloguers who ship high volumes of lighter shipments to residential customers. FedEx SmartPost has a completely integrated national network that picks up, sorts and delivers packages directly to U.S. Postal Service facilities for final delivery to residences.
During the week of Dec. 13, also the busiest week of the year for FedEx, the company expects to move more than 63.1 million shipments compared to last year's busiest week of 57.5 million shipments. Items such as books from large internet retailers and retail inventory such as apparel, personal consumer electronics and luxury goods will drive FedEx holiday volumes.
"Once again, the FedEx work force of more than 285,000 team members will make the holidays happen for millions of FedEx customers across the globe," says Frederick Smith, chairman, president and chief executive officer of FedEx Corp. "We are optimistic about the volumes during the holiday shipping season and expect growth to be driven mainly by FedEx SmartPost, with U.S. domestic ground packages and global air express shipments contributing to volumes as well."
On average, more than 8 million packages move through the FedEx systems daily. Year over year, FedEx Ground volumes on its busiest day are expected to increase by 1.8 million packages. About 50 percent of this increase is due to volume growth at FedEx SmartPost.
According to the National Retail Federation, holiday sales are expected to increase a moderate 2.3 percent this year to $447.1 billion. This growth is slightly lower than the 10-year average holiday sales increase of 2.5 percent. In 2009, sales increased 0.4 percent. NRF also found that retailers will continue to focus on supply-chain efficiencies and inventory control. Online holiday sales are forecast to climb 15 percent compared to last year, according to the research and consulting firm Deloitte.