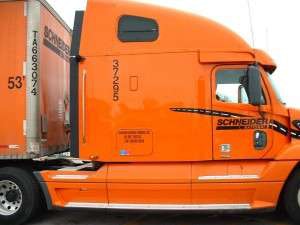 Vigillo, creators of data mining software products designed to aggregate, organize and deliver complex fleet safety information in an easy-to-read scorecard format, announced Tuesday, Nov. 16, that Schneider National is utilizing its suite of Comprehensive Safety Analysis 2010 scorecards to help educate and prepare shipper's for the new CSA regulations.
"As we visit with our customers, CSA is increasingly a part of the conversation," says Don Osterberg, senior vice president of safety, security and driver training at Green Bay, Wis.-based Schneider National. "They are paying close attention because these companies can be at risk if they tender freight to an unsafe carrier. Vigillo is helping us to stay ahead of the curve, and have greater credibility with our customers as we work to identify solutions to supply chain challenges."
Vigillo says its suite of CSA score management offerings include carrier, driver and shipper/broker analysis scorecards, and that with more than 2,000 carriers and 650,000 drivers utilizing its products, the company can offer factual and statistically significant trending information.