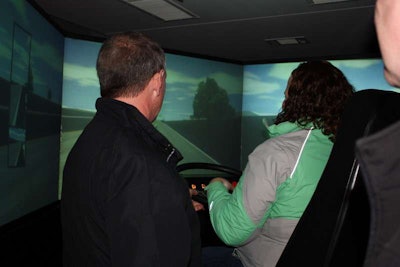 PHH Arval recently hosted a risk and safety symposium for clients, prospects, supplier partners, manufacturers and PHH employees at Canada Olympic Park in Calgary. Jim Halliday, president of PHH Canada, introduced Western Canadian fleet professionals to The Center for Transportation Safety, a new division of PHH Arval. CTS provides fleets with behind-the-wheel and other driver training solutions, and PHH acquired its capabilities last summer to enhance its position in risk and safety solutions.
Attendees of the Oct. 27 symposium test-drove heavy truck and passenger vehicle simulators aboard CTS' mobile driver training classroom, affording the opportunity to duplicate and simulate driving situations that normally are too dangerous, too expensive or impossible to duplicate in the real world. CTS professionals led participants through safe skid maneuvers aboard a specialized skid vehicle, emergency braking and evasive maneuvers, backing, and mirror and seat adjustments.
In addition to these behind-the-wheel experiences, PHH Arval hosted a ride and drive, exhibits from numerous automotive supplier partners and an expo featuring PHH's online driver training, telematics and technology capabilities. A similar risk and safety symposium is scheduled for Nov. 30 in Montreal at the ICAR Motorsport Complex in Mirabel.