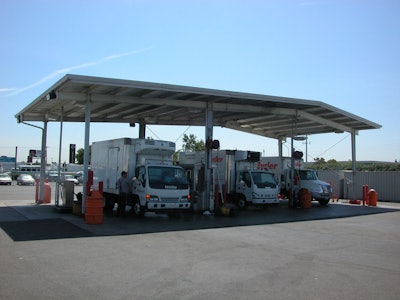 Ryder System Inc. said Tuesday, Nov. 16, that it soon will offer diesel exhaust fluid at every full service Ryder location in North America to support contractual full-service lease and maintenance customers operating vehicles that use selective catalytic reduction (SCR) technology to meet 2010 emissions standards set by the U.S. Environmental Protection Agency.
DEF is the nontoxic solution that is required to maintain proper operating compliance in vehicles using SCR to convert nitrogen oxide in the exhaust stream to harmless nitrogen and water vapor. Ryder says DEF already is available at more than 500 of its U.S. service locations and that it will establish an initial inventory of DEF at each of its 600-plus service locations in North America and will increase that inventory as demand for DEF grows. Customers will be able to purchase DEF in 2.5-gallon portable containers.
A limited inventory of DEF also will be available at nonfueling locations for emergency roadside service needs, as well as to support EPA 2010 compliant vehicles that are part of Ryder's commercial rental fleet. Ryder plans to add bulk storage and DEF pumps at its largest shop facilities throughout North America in 2011 in anticipation of increasing DEF demand.
"As more EPA 2010 compliant vehicles are introduced into our customers' fleets, we are prepared to ensure that customers will have DEF availability across Ryder's network," says Robert Sanchez, president of Global Fleet Management Solutions for Miami-based Ryder. "Over the long term, we will continue to evolve our DEF storage and dispensing infrastructure to meet the needs of the marketplace."