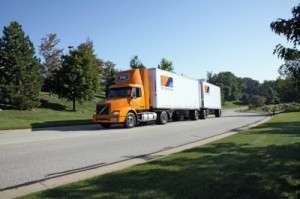 YRC Worldwide announced that on Tuesday, Nov. 16, that three of its subsidiaries filed a motion to dismiss the complaint filed by ABF Freight System Inc., which alleges a violation of the National Master Freight Agreement between the subsidiaries and the International Brotherhood of Teamsters.
Meanwhile, the Teamsters National Freight Industry Negotiating Committee said Wednesday, Nov. 17, it was advised by YRC on Nov. 10 that it was mailing a multiregion "change of operations" to local unions this week that would affect several hundred members throughout the United States and potentially close 31 small- and medium-sized terminals in three of the four Teamster regional areas in which they operate.
In the motion to dismiss, YRC Inc., New Penn Motor Express Inc. and USF Holland Inc. asked the U.S. District court for the Western District of Arkansas to dismiss ABF's complaint because ABF is not a party to the NMFA and, therefore, has no standing to challenge the NMFA or its amendments.
ABF Freight System's complaint argues that concession agreements between the Teamsters union and the YRC Worldwide entities violate the NMFA, the collective bargaining agreement covering most unionized trucking, including drivers and dockworkers nationwide. ABF's legal actions, filed administratively under the contract and in federal court in Arkansas, argue that the defendants violated the NMFA in 2009 and 2010 by entering into concessionary side agreements with YRC companies to the exclusion of ABF and other companies signatory to the NMFA; these agreements led to ongoing significant wage and benefit reductions and other economic concessions that were applied only to YRC companies, and not ABF.
ABF says the third and latest amendment to the NMFA – negotiated between YRC and the Teamsters in late September and ratified by union members Oct. 30 as part of a restructuring plan aimed at saving both the company and more than 25,000 union jobs – is expected to "provide further wage, benefit and work rule changes that are expected to generate an average of $350 million in annual savings through the end of the extended agreement," according to YRC Worldwide Inc.'s 8-K report filed Friday, Sept. 29. ABF, with more than 8,000 union employees, asserts in its claims that the concession agreements were unlawful, unfair and inconsistent with the plain language, intent and purpose of the NMFA, and that they resulted in a substantial competitive disadvantage for ABF.
ABF, believing that the grievance procedure of the NMFA is fundamentally flawed by reason of conflicts of interest on the part of both labor and employer representatives who normally would be impaneled to hear ABF's grievance, seeks a legal determination to have the court create an appropriate grievance review committee to hear the grievance and resolve the dispute, or to have the contract amendments benefiting only YRC declared null and void by the court. ABF also seeks financial damages in an amount estimated to be about $750 million by the time the NMFA is set to expire on March 31, 2013.
TNFINC said it was still evaluating the YRC's intended "change of operations" to relocate certain drivers and alter current freight handling practices. "At this time, no hearing has been scheduled and will likely not be scheduled prior to the holidays as YRC needs to meet with each affected local union as a first step in the process," said Tyson Johnson, TNFINC co-chair. "This needs to occur before any formal meetings between YRC and TNFINC regarding another YRC change of operations will be conducted."
The Teamsters said its Freight Division will keep all local unions and YRC members updated regarding the company's stated plans as specific details of the proposed change emerge.