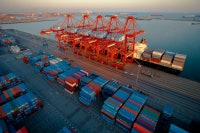 The Port of Long Beach announced that its monthly container cargo count reached its highest levels in three years to 613,621 20-foot equivalent container units moved in the month of October, a 35.6 percent increase compared to the same month last year.
Imports were up 33.5 percent to 303,168 TEUs, only the second time imports have topped 300,000 since November 2007 and near the peak levels reached that year. Exports were up 26.3 percent compared to August 2009 to 150,581 TEUs.
Empty container moves were up 50.6 percent to 159,872 TEUs. Empty containers are mostly bound overseas for refilling.