Electronic inspections
New technologies help detect, resolve vehicle defects faster
By Aaron Huff
With the rollout of the Compliance Safety Accountability (CSA) safety measurement system, the pretrip driver vehicle inspection reports required by U.S. Department of Transportation regulations 396.11 and 396.13 are now critically important.
DVIRs give fleets an early indication of what a DOT officer would find during a roadside inspection. Violations severely impact the Vehicle Maintenance BASIC – one of the seven CSA safety assessment categories.
Converting to an electronic DVIR process can help fleets resolve vehicle defects more quickly, but the process is only an improvement if drivers actually inspect the vehicle.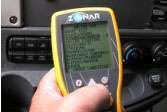 Zonar's Electronic Vehicle Inspection Report (EVIR) uses a handheld reader and RFID tags – roughly the size of a half-dollar – placed in different zones around the vehicle. The Zonar system verifies that drivers actually inspect the vehicle's components because drivers have to place the handheld within one-half inch of each RFID tag.
The EVIR is transmitted wirelessly to Zonar's servers. Maintenance personnel can review the reports and schedule repair work through Zonar's Web-based Ground Traffic Control (GTC) system. Fleet managers also can review performance metrics, such as defect rates and inspection times. Once repairs are complete, drivers close the loop by noting that the defect has been resolved.
The Zonar system – which costs $9.95 a month and about $300 for hardware – includes a telematics platform with various other fleet management applications.
Fleets may choose to deploy other types of electronic DVIR applications on their mobile phones and onboard computers. Xata Turnpike's Web-based fleet management system includes a telematics device connected to the vehicle and a mobile application that runs on Motorola, BlackBerry and other Java-enabled handsets.
Drivers use their handsets to capture vehicle inspection reports, and managers can be alerted to skipped inspections. Fleets can benchmark driver inspection time against fleet standards to improve the quality of how drivers perform inspections.
Lexington, S.C.-based Southeastern Freight Lines recently began using Innovative Software Engineering's DVIR application as an extension of its electronic logbooks and onboard computing platform.
"The DVIR application is easy to use for our drivers and maintenance technicians," says Braxton Vick, senior vice president of corporate planning and development at Southeastern. "It improves productivity by providing real-time visibility into defects requiring repair."
Drivers are prompted to inspect each vehicle before and after operation and select from customizable lists of parts and accessories and common defect descriptions. Maintenance personnel at Southeastern use a Web interface called eFleetSuite to review defects and deficiencies, enter notes and certify that repairs have been made or are not needed for safe operation.
Bringing it together
Mobile DVIR applications not only capture information and speed its flow to the office, but also help fleets prioritize defects and schedule repairs accordingly.
Last September, PeopleNet and software developer TMW Systems announced eDVIR, an integrated product to automate the inspection-ticket workflow. Drivers complete an eDVIR form message in the PeopleNet onboard computer as part of their pretrip routine. The TMT Fleet Maintenance system polls PeopleNet's message history and creates a work order when it detects a vehicle defect identified by a driver in a form message.
When the vehicle repair is completed, the system sends a message through the Web-based PeopleNet Fleet Manager to dispatch and the vehicle's next scheduled driver, identifying the mechanic and the corrective action that was completed.
EBE Technologies recently developed a DVIR system that automates data processing of both paper forms and electronically captured inspections.
The system uses imaging technology to accommodate paper DVIRs along with other documents in a driver's trip envelope. The system reads the document type and equipment number and flags any checkmarks on the DVIR form. The noted defects are sent to a maintenance system to indicate what repair is necessary.
When entering the information through a mobile communication device, the date, tractor-trailer information and driver name are filled automatically into the DVIR form from the dispatch system.
By converting from paper to a fully electronic inspection process, fleets not only can lower the cost of compliance but also can improve driver satisfaction and fleet performance in both maintenance and safety.
IN BRIEF
* Vigillo (www.vigillo.com) released a free Roadside Resume scorecard that enables truck drivers to see how they are rated under the Federal Motor Carrier Safety Administration's Compliance Safety Accountability system of measuring, regulating and enforcing safe driving and operating practices.
* GreenRoad (www.greenroad.com) added an idling performance solution to its overall driving decision support service. According to the company, the typical GreenRoad 360 customer already sees fuel economy savings of up to 10 percent, and its new solution can help drivers cut fuel consumption by an additional 2 to 5 percent.
* Collective Data Inc. (www.collectivedata.com), a provider of fleet management software systems, released the Extended Asset Module designed to allow a fleet to track any physical asset – from generators to notebook computers – and know its location, lifecycle costs, maintenance schedule and more.
* Qualcomm's (www.qualcomm.com) latest onboard fleet management system, the Mobile Computing Platform 110 (MCP110), is being adopted by Shelby, Tenn.-based Nationwide Express across its entire fleet of about 200 trucks.
* TransCore (www.transcore.com) incorporated new federal carrier safety guidelines and enhanced the fraud protection features for its CarrierWatch service, an online tool designed to help brokers and shippers validate the operating authority, insurance and safety records of the motor carriers they hire.