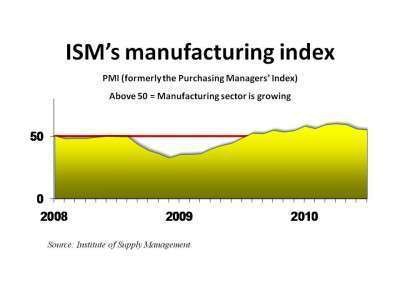 Economic activity in the manufacturing sector expanded in January for the 18th consecutive month, according to the Institute for Supply Management's monthly survey of U.S. supply executives. The PMI — ISM's composite index of manufacturing activity — stood at 60.8 percent in January, up 2.3 percentage points from December.
Index values above 50 percent mean that the manufacturing sector is growing.
The near-term outlook is rosy as well. The index for the new orders — a component of PMI — was up 5.8 points to 67.8 percent. The production index also was slightly higher in January.
The 60.8 percent reading for the PMI is the highest level since May 2004, says Norbert Ore, chairman of ISM's Manufacturing Business Survey Committee. "The continuing strong performance is highlighted as January is also the sixth consecutive month of month-over-month growth in the sector. New orders and production continue to be strong, and employment rose above 60 percent for the first time since May 2004. Global demand is driving commodity prices higher, particularly for energy, metals and chemicals."