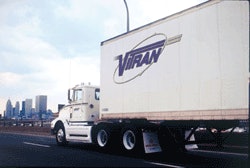 Vitran Corp. Inc. on Thursday, Feb. 10, announced consolidated revenue of $673 million for the year ended Dec. 31 – a 13 percent increase compared to $595 million for the 2009 year – and a net loss from continuing operations of $38.1 million. For the 2010 fourth quarter, Vitran reported consolidated revenue improvement of 10 percent to $172 million – compared to $156 million in the 2009 fourth quarter – and a net loss from continuing operations of $40.2 million.
For the quarter, the less-than-truckload segment posted a loss from operations of $1.7 million with an operating ratio of 101.1 percent compared to a loss from operations of $2.6 million and an OR of 101.9 percent. Shipments and tonnage increased 4.8 percent and 1.4 percent, respectively, in the LTL segment. The Supply Chain Operation segment posted an increase in revenue of 23 percent to $26.5 million, an 11 percent improvement in income from operations to $2.1 million and a 91.9 percent OR.
"The 2010 fourth quarter and year was a period of significant milestones," said Rick Gaetz, president and chief executive officer of Toronto-based Vitran. "We divested ourselves of our noncore truckload operation, while retaining 20 percent of the newest trailing fleet to be redeployed in our core LTL operation. Our continuing operations returned Vitran to profitability for the year, and our supply chain segment posted record revenue and income from operations. On a consolidated basis, we reduced our debt to a five-year low, dropped our leverage ratio back to 2007 levels and earned another 50 basis point reduction in our interest rate spreads."
Gaetz said that although Vitran's fourth quarter was not as good as planned financially, the company's LTL daily shipment count and daily tonnage in the quarter exceeded the 2009 fourth quarter. "Pricing in our U.S. LTL business unit continued its positive trend improving from the third quarter of 2010," he said. "These positives were offset by higher-than-expected insurance-related expenses and purchased transportation costs."
Gaetz anticipates closing its Milan LTL acquisition on Feb. 19. "With this added density in our existing region and expanded territory in the southern states that this transaction brings, coupled with our pre-existing pricing and activity momentum, we believe Vitran is well positioned to take advantage of the improving economic environment in 2011," he said.