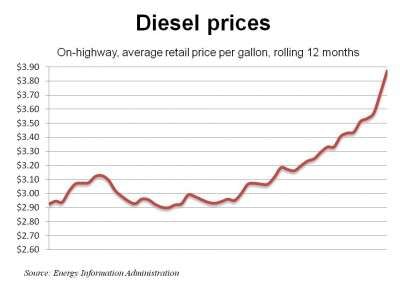 Diesel prices last week soared 15.5 cents higher for the largest one-week jump since the week ended May 26, 2008, according to the U.S. Department of Energy's Energy Information Administration's report for the week ended March 7. The increase, which is the 10th largest since EIA began tracking prices in 1994, follows a 14.3-cent increase a week earlier.
The price of diesel now stands at $3.871 a gallon — 96.7 cents above the same week last year and 92 cents, more than 31 percent, higher than the level in late September when the current surge began. The national price of diesel has declined only three times in the past 23 weeks.
Not surprisingly, prices rose in all regions, led by the 16.2-cent increase in the Midwest. The smallest increase was 13.9 cents in the Central Atlantic region. California had the nation's most expensive diesel at $4.122, while the least expensive diesel was $3.812 in the Gulf Coast region.
Complete diesel price information is available on the EIA's website.