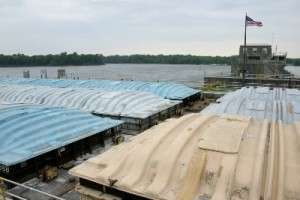 The U.S. Department of Transportation on Tuesday, April 5, argued its case for creating and further strengthening the nation's marine highways. A report prepared by the Maritime Administration, "America's Marine Highways," is intended to serve as a roadmap for using coastal and river transportation as part of America's new clean energy economy.
Congress requested the report to help determine if water transportation can help move the nation to a more environmentally-sustainable transportation system, reduce highway congestion and cut down on the maintenance and replacement costs of the nation's roads and bridges.
"America's maritime transportation system is a major priority for President Obama's administration," says U.S. Transportation Secretary Ray LaHood. "When we finish America's fully-integrated national marine highway system, our legacy will be more than routes on water. It will be a country less dependent on foreign oil. It will be a 21st century means of moving people and goods. It will be a future that America is prepared to win.
DOT says the report highlights its accomplishments in supporting the development of America's marine highway system. Since formally starting the program last year, LaHood designated 18 Marine Highway Corridors intended to support economic growth and create jobs in communities across the country. In addition, DOT awarded $215.3 million from the TIGER I and TIGER II (Transportation Investment Generating Economic Recovery) programs to jumpstart or expand marine highway projects. Finally, DOT commissioned a study of new ship design to serve the marine highway markets and to be useful to the military if needed.
"America's new clean energy economy will rely on a green, efficient transportation system that means making better use of our underutilized marine highways," says Maritime Administrator David Matsuda. "This report is a valuable instrument in helping chart our course toward better energy security, reduced highway congestion and more balanced transportation networks."