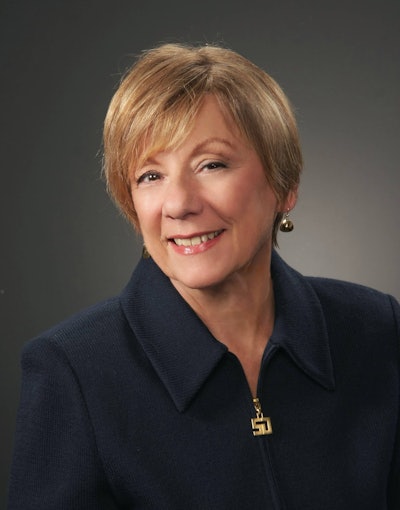 PeopleNet, a provider of integrated onboard computing and mobile communications systems for fleet management, announced that Beverly Mestelle was named a "Woman to Watch" by The Minneapolis/St. Paul Business Journal as part of its annual Women in Business Awards.
Mestelle joined PeopleNet as director of operations in 2000 and was named vice president of operations in 2004. She increased productivity by 800 percent during a period of 50 percent annual growth. Operational success under Beverly's leadership led to the executive team's decision to start a formal Talent department in 2008.
As Vice President of Talent, Beverly continually looks for ways to improve PeopleNet's employee experience. From onboarding to exit, Beverly has created and implemented a number of new programs that support and position employees for success:
• Management by Objectives aligns goals and subordinate objectives throughout the organization;
• Dual Career Tracks rewards and promotes high-performing employees;
• New Leader Immersion moves new leadership from preparing and planning to contributing and leading in a 100-day assimilation process;
• Employee Recognition Program aligns achievements with company objectives on three levels;
• Wellness Program helps employees manage healthcare costs, and part of the $200,000 savings realized from the 2010 self-funded insurance plan that she implemented will be reinvested in this program in 2011;
• Support Program helps employees get involved in Habitat for Humanity; Service/Volunteer Day pays an employee to work at a charitable organization for a day.
Each year, the Minneapolis/St. Paul Business Journal honors 25 Women to Watch — leaders to keep an eye on for continued success — as well as 25 Industry Leaders who are at the forefront of their industries. Mestelle and the other honorees will be featured in a special publication on May 13, where you'll get to read more about them, and recognized at a luncheon on May 12. For a complete list of the winners, visit this site.
Congratulating Mestelle, PeopleNet CFO Michael Goergen said, "Beverly is a rare talent and an accomplished driving force behind the success of our company. Her hands-on experience in operations, sales, and business management has proven to be an essential commodity for helping our organization retain and recruit talent during what has been a tough economic time for our industry. By creating an environment that always puts employees' interests first, Beverly has created a corporate culture known for specialized training and development initiatives. We would be lost without her."